Since WordPress is becoming the dominant provider of web page services for both blogging and small to medium size business, they have had to grow their content services to educate all the various people and businesses on how to use WordPress. Thus, the result is WordPress Learn.

They write:
"You've got a blog: huzzah! Time to make it the next internet sensation. Whether you want to be a WordPress.com pro or just need to get the hang of the basics, you've come to the right place.
To go from gumshoe to guru, make your way through the tutorial section by section. If you need help with a specific task, menus at the top of each page let you know what you'll learn. Here are a few recommended resources to get you up to speed even faster:
Get Going Fast A quick-start guide to all the basics you need to get up and running now.
Get Guidance in Your Inbox: Bite-sized learning, delivered daily by email.
Get a Home Page: The how-to on usingWordPress to build a website — home pages, custom navigation, and more.
Get Lingo: A handy glossary to demystify WordPress lingo.
If you want more detail on any topic, head to our Support site for documentation on every WordPress.com question you can think of (and some you can't).
Ready?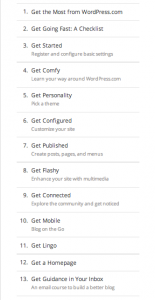 http://learn.wordpress.com/