Everyone wants to boost their eCommerce store sales.
But before you work on improving your purchasing process, you need to drive buyers to your site. No site traffic can quickly lead to no sales. And if you're not making sales over time, this can eventually lead to the shutting down of your business.
To drive buyers to your site, invest in SEO today. 
To get started, follow my Complete eCommerce SEO Guide for 2020. Here, you will learn how to gain more site traffic, boost your sales, and grow your online business.
Let's begin!
Why Your eCommerce Store Needs SEO  
Did you know that 44% of people start their online shopping journey with a Google Search and 23.6% of eCommerce orders are directly tied to organic traffic? 
SEO can drive a significant amount of traffic to your site. 
But when it comes to optimizing the SEO for your eCommerce website, you need to think a little differently. You need to look at traffic in terms of the money people spend with you.
For example:
If you wanted to Rank #1 for the term '

Gymnastic rings

,' you need to use an SEO tool to find key metrics around search volume and traffic potential.
With Ahrefs, I was able to find out that the keyword 'Gymnastic rings':
Let's say, you rank #1 for the term 'Gymnastics Rings':
If 5% of the 2,100 visitors purchased gymnastic rings from you, you can make (2100 visitors x 0.05 conversion rate)

105 sales every month

.

If each sale was on average $25, you could be making an extra (105 sales x $25 average sale)

$2,625 every month.

If you make $2,625 per month, you can be making ($2,625 x 12 months),

$31,500 worth of sales for a year

.

The $31,500 is the number of sales you can make in a year for

one keyword and one product.
With SEO you can double and triple your organic search traffic and sales.
Let's start by performing an SEO Audit.
SEO Audit 
An SEO Audit helps you identify on-site problems that are hurting your rank on the search engine results page. Below, we'll show you how you can improve your SEO score.
Common Problems 
Common on-site SEO Problems include having:
A difficult site for Google to crawl

Almost no content

Duplicate content

Technical problems like site structure or cannibalization
To see if you have these common problems, run your website through an SEO audit tool like Screaming Frog or SEMRush. 
Website Speed 
Before we jump to the SEO audit tools, let's look at site speed. If your store loads too slowly, not only does it reduce conversions, but it also hurts your SEO. 
GT Metrix 
To check your website speed, go to GTMetrix (page speed performance tool). Type in your website and run the test.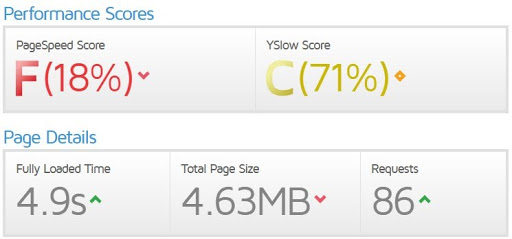 If you're not scoring As and excellent scores, there's room for improvement. To know where you can improve, simply scroll down underneath your Performance Scores.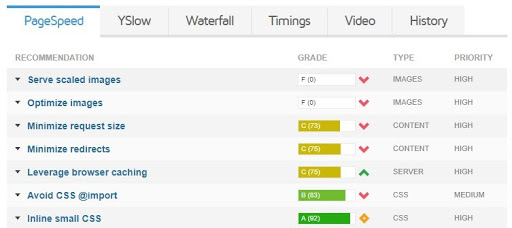 Site Structure 
When it comes to website structure, every eCommerce site should have a simple user-friendly site hierarchy.
Ideally:
You have separate homepages from your product categories. 

Your products are listed within your product categories. 

It only takes visitors three clicks to reach your product pages from your homepage.
Not only does a simple site improve the user experience, but it also makes it easier for search engines to crawl through. 
You can view your site structure with the Screaming Frog tool.
To see the overall site structure,

change

the

List View

to

Tree View.


 

To assess

crawl depth

(the shortest route to the product page), go to

List View

and start from your Homepage. On the right, you'll see a window that shows the overview, site structure, response time, and API.


Change the Overview tab to Site Structure. You'll see a graph that shows you your crawl depth.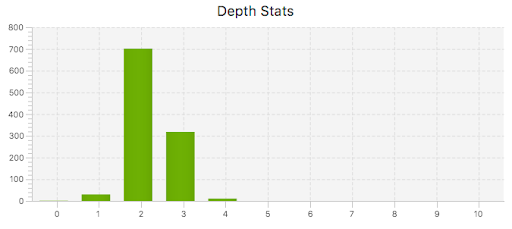 This is an example of a good site structure since everything takes almost only 2-3 clicks from the homepage.
SEO Audit Tools 
Below, I'll show you how you can audit your eCommerce site with 2 popular SEO Tools.
Screaming Frog 
Download

the Screaming Frog software. It's free up to 500 URLs.

Take

your website URL,

add

it to Screaming Frog and

hit 'Start

.'



Export

data once the crawl is complete. To simplify data,

filter

the result by HTML.



Here, you can see a list of your on-site SEO problems. 

To find duplicate content,

go

to the

'URL' tab

in the second menu.

Go

to

filter

and

click 'Duplicate

.'

Here, you can see that the primary cause of duplicate content is the use of parameters.


By toggling the second tab, you can identify other SEO problems like:

Missing Tags


Duplicate Tags


Canonical Tags


Missing Meta Descriptions


Duplicate Meta Descriptions


Missing Alt Tags


Error 404 Pages


SEMRush 
To access 'SEMRush Site Audit,' go to the left-side menu. Under 'Management', click on Projects.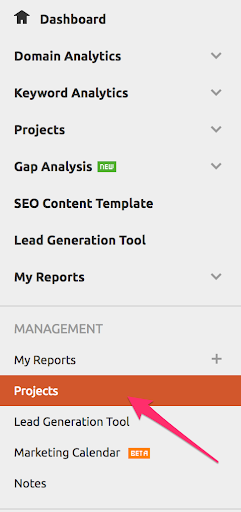 Click on 'Add New Project' on the top right. Then add your website.

Select Site Audit on the top left.
With SEMRush, you gain an Overview Report which shows you all the SEO-related problems found on your site.

With the Issues Report, you can see where all your specific problems lie.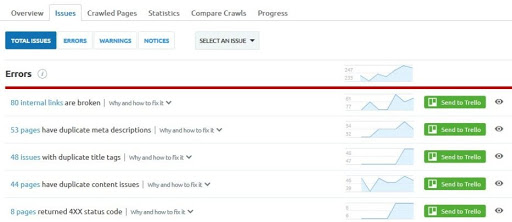 The Issues Report also goes into detail on each problem and how you can fix it.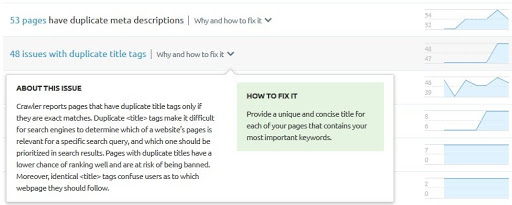 Keyword Research 
Keyword Research is the foundation of any eCommerce SEO strategy because finding the right keywords will bring qualified organic search traffic to your site.
How Keyword Research Differs 
eCommerce keyword research requires you to take into account additional factors. Below, I'll show you the 4 factors you must pay attention to.
Search Volume 
You need to consider search volume because you won't be making any sales if not enough people search for your words.
Search volume can vary depending on your niche: 
A high-traffic keyword on average can have over 10k searches per month. 

Whereas 1k searches per month is considered a lot for other niches.
If you want to determine the best volume for a keyword, take other high-traffic keywords as a benchmark. I recommend you look at the other 3 factors below as well.
Intent 
Your goal shouldn't be to acquire as much organic traffic as possible. Remember, you should focus, instead, on attracting qualified traffic.
That means you want visitors from the right stage in the sales funnel.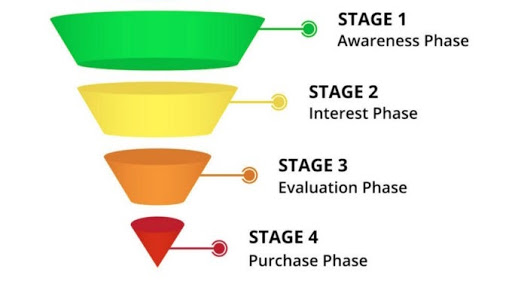 As your keywords shift from the awareness to the purchase phase, there will be fewer searches at the end of the funnel. 
It's not a bad thing.
For example:
If you attract 10,000 people with a 0.5% conversion rate with an average order of $20, you'll make

$1,000 in revenue.

If you attract 2,000 people with a 5% conversion rate with an average order of $20, you'll make

$2,000 in revenue

.
In the second scenario, you attracted fewer people but you made more money because the visitors at the end of the funnel are more ready to spend their money.
Relevance 
To target the right audience, you need to make the keyword relevant to your eCommerce store.
There's no point in selecting a keyword with great search volume and intent if it has no relevance to what you're selling. That's why you should optimize your site for keywords that are relevant to your products.
Here, you can look at the top 10 results for a certain keyword. If the pages that rank in the top 10 positions are similar to what you're selling, then that keyword is relevant to your site. 
Competition
While search volume, intent, and relevance are important, you must also look at your competitors and see whether you can realistically rank for that keyword. 
For example:
The competition is fierce. You have to compete with Amazon,Macys, and Claires. These pages all have high levels of authority.
To get around this issue, go for longer-tail, lower competition search keywords first. 
Keyword Research Tools
Here, I'll show you how you can find the right long-tail keywords using popular SEO tools. Let's start with Ahrefs…
Ahrefs 
Go to

'Ahrefs Keyword Explorer

.'

Enter

your keyword and

click 'Search

.'

Ahrefs will then show you the difficulty of this keyword.

You can also look at the URL rating for the websites that rank as well.
SEMrush 
Go to '

SEMRush's Keyword Difficulty

.'

Enter

the keyword and

click

'Start now.'

Go to the

left menu

and

click

on '

Keyword Difficulty.'

Here, you can see that the keyword has a difficulty of 75%. If you're thinking why the results from both tools give you different results, it's because neither tool is 100% correct. 
SEMRush

focuses on

Domain Authority

 

Ahrefs

focuses on the

number of backlinks.
Click

on

'Keyword Difficulty percentage'

to see the top 10 pages that rank for the term. You can also see their domain strength as well. 

Here, many high-authority sites rank for this keyword. If you have similar domain strength, then you can compete against these companies. But if you have a lower domain strength, best to use a

modifier keyword that is less competitive.

To find modifier keywords,

head

to the

keyword overview page

. Look for

'Phrase Match Keywords'

or

'Related keywords.'
On-Page SEO 
Below, I'll show you how to improve your store's on-page SEO for your target keywords.
Title Tag 
Adding a target keyword in the Title Tag will help boost your SEO. But since your Title tag is also shown in search results, you should consider a title that drives people to click on your site.
Here are some examples of Title Tags, if you're selling skateboards: 
For a Category Page:

 The Best Skateboards For 2020. 

For a Product Page:

Skateboard Pro 2000:The Best Skateboard For Tricks.
Meta Description 
Including keywords in your Meta Description is a great way to increase click-through rates from search results.
For example:
Here, the first and last results are extremely unclear. Since the second result includes keywords, it immediately stands out. 
To write a Meta Description that includes your keywords:
Mention the problem

: Describe the problem so the customer can relate to you

Explain your solution:

Explain what you offer and the features and benefits of your solution. Here, you can provide a solution to their problem.

Motivate people to click:

Insert a CTA like, click here, Free Shipping, 10% off. This motivates people to click.
Product Description 
Your product description allows customers to know what your product is and what it does.
Don't: 
Copy and paste manufacturer descriptions

Focus just on the features of the products, and not their benefits

Leave out key information the help with the purchasing decision
When you're writing your product description, highlight how the customer will benefit from your products.
For example:
Images 
People often use Google images to find products. That's why, if you want to boost your chances of being found online, you should take product image optimization seriously.
Here's how to get started:
Make the file name fit the product name

: For example, a filename could be longboard-pro-tricks.jpg.
Add relevant alt-tag:

You can use the same principle in filenames to alt-tags.

Optimize the size of the pictures:

Decrease the size to increase page load times. 
SEO & High-Quality Pictures
Customers purchasing on eCommerce stores cannot touch, try, and feel products. But if you have high-quality images, it can give the customer more information.
For example:
Mr. Porter (luxury clothing retailer) allows you to zoom in to view the details

WatchShop even lets you gain a 360-degree view of their watches.
If you want high-quality videos, hire a professional photographer, or invest in studio lighting and a DSLR.
Schema Data 
To stand out from the competition, you can integrate schema.org microdata (additional snippets of information to your product pages descriptions). You can include data like pricing, availability, delivery time, and review data.
Internal Links 
Internal linking is one of the most powerful SEO tactics. 
With internal linking, you can establish your anchor text. Although there isn't a lot of space in your product descriptions, you can still include links by using product recommendations.
For example:
After looking at a backpack, Amazon

recommended another product

as a bundle. This boosts their average order and includes a powerful internal link to the product.

There's also the

'Customers Who Bought This Item'

section.

The

'Further Product Recommendations.'

And

'Customers Who Viewed This Item Also Viewed'

section.
Testimonials 
Including social proof is a fantastic way to increase conversion rates.
For example:
Link Building 
The more quality backlinks you have, the better your store will rank on search engines. There are some old methods such as engaging on forums like Yahoo Answers & Quora and posting your links on social media platforms. But to get high authority relevant links…
There are tons of ecommerce SEO link building strategies but here are 3 of my favourite.
Competitor Backlink Analysis 
To analyze and steal your competitor's backlinks:
Identify the

main keywords you want to rank for.

Gather the first 10 organic results for the keywords.

Make a list with each URL you find on an Excel sheet.

Use Ahrefs to find all the backlinks pointing to each of your competitors. See how many backlinks you'd need to beat the competition.

Sort the list of backlinks by their Domain Rating (DR). (This way, you can go for the most valuable links first.)

See how your competitor got the link in the first place.

Replicate your competitor's backlink approach.
For example:
https://www.bequiet.com/en/casefans

https://www.bustle.com/p/10-quiet-fans-that-wont-keep-you-up-at-night-64038

https://www.essentialhomeandgarden.com/best-quiet-fan/
I'd then go on Ahrefs, sort them based on DR, and have a look at all the backlinks.

I'd look at how many backlinks I'd need to crack the top 10 for this keyword.

I'd then export the results and look at how my competitors got these backlinks.
Guest Posting 
Guest posting is a great way to build relationships with industry bloggers, boost site visibility, and gain high-quality backlinks.
Here are the 5 steps I use:
Prospect your industry

Qualify your prospects

Undergo an outreach program

Create the content

Build relationships with bloggers and webmasters
CrowdFunding 
Crowdfunding is when someone raises money for a project through small donations. In exchange for a donation, they can reward you, by placing a link back to your site.
If the website has a high domain authority score, a backlink can seriously boost your SEO ranks.
To get started:
Find opportunities:

Go to a popular crowdfunding site like GoFundMe, Kickstarter, or Patreon and find projects that offer a link to your website. 

Make a donation:

Donate the amount required for a backlink.

Your link is placed:

Watch the project founders place a backlink to your website.
Conclusion 
When it comes to your eCommerce site's SEO ranking, if you approach SEO in the right way, it will make a profound impact on your business forever.
But before you begin implementing these SEO techniques, start with an SEO audit.
First, identify your problems and solve any issues. This will help you build a solid SEO foundation, saving you time and money in the long-run.
What are you waiting for? 
Get started and see your SEO ranks rise through the SERPs today!
Matthew Woodward is an internet marketing and SEO professional who has published hundreds of guides and case studies aimed at helping his followers with their online businesses. He started his blog in 2012 and since then has picked up a number of awards.
Picture – https://cdn.matthewwoodward.co.uk/wp-content/uploads/2019/12/matthew-woodward.png