There are a variety of ways to make sure that you are getting the most out of WordPress on mobile devices, from adding posts to providing a good user experience. If you haven't noticed, almost everyone seems to have a mobile device these days. More and more people use their phones and tablets to browse the internet, check emails, and get up to date on the latest news. As time goes by, expect more people to make the switch to mobile. There are many reasons for this trend, from businesses limiting employee's usage of desktop computers to the convenience of browsing the web on the go. There are two sides to taking advantage of mobile devices when it comes to WordPress, ensuring that you have a great mobile WordPress site and making it easier to edit and create posts using your mobile devices.
Ensure Your WordPress Site Looks Great on Mobile
The first half of taking advantage of mobile devices with WordPress is ensuring that your website looks great on mobile. Start by taking a look at how your website looks on your own mobile device. At this point, your WordPress theme should use responsive design. This eliminates the need to worry about switching to a mobile website on a mobile device. To check if your WordPress theme uses responsive design, open your website in a desktop browser and adjust the width. You should be able to shrink your browser down in size and have your website respond to the changes in width. For those that do not have a responsive design, it is fairly simple to find a modern WordPress theme that does.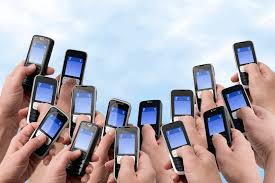 Posting and Editing WordPress on Mobile Devices
In addition to providing a great user experience for those on mobile devices, you can also take advantage of the fact that you can now work with WordPress on your own mobile device, whether you have a tablet or a mobile phone. WordPress has released apps for all Apple mobile products, Android devices, and even Blackberry. That pretty much covers any popular mobile device that you may have.
To get started, visit WordPress.org and download the mobile app that corresponds to your device. Not only does this provide a great way for updating and creating posts and moderating comments, it also allows you to immediately see how your posts render on mobile devices.
All of the WordPress apps work for both WordPress.org and WordPress.com websites. Use the app to create and edit posts, upload photos directly from your phone or tablet, moderate comments, and check out the number of visitors you are getting.
Do Not Ignore the Mobile Market
No matter what type of WordPress website you have, you need to pay attention to mobile users. Surveys show that without a good mobile website, consumers are almost guaranteed to immediately visit your competition. Go ahead and download the WordPress app for your mobile device and begin focusing on the mobile experience of your WordPress site.