The digital age has changed the way customers interact with their favorite brands. According to a survey, almost half of the respondents said they spend five to six hours on their mobile devices daily. Instead of going window shopping, consumers would rather scroll down their social media feeds to find new brands.
As customers spend more and more time on the internet, businesses need to start building an online presence. The first step is to launch an e-commerce website to reach their target audiences. Here are a few statistics that show it's the perfect time for your business to go digital:
• E-commerce will account for more than $6 trillion in sales by 2023
• Almost 2 billion people worldwide purchased products or services online in 2019
• 86% of millennials are digital buyers
If you want to launch your e-commerce website, you're probably going over your options. Shopify vs. WordPress—which is better for your online store? We'll delve deeper into these two platforms and help you decide.
What is Shopify?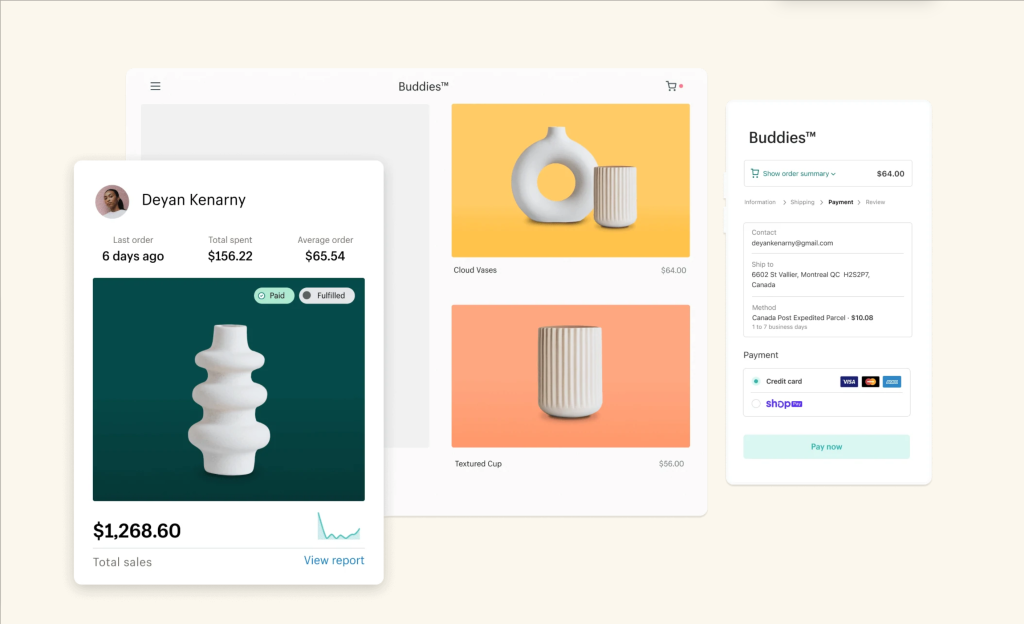 Shopify is an e-commerce platform suitable for brands looking to run an online store. It is a versatile channel that allows you to sell products and services either online and/or in-person with a Point of Sale (POS) app. With this in mind, Shopify enables you to provide a multi-channel experience to your customers.
Online stores built with Shopify can leverage a variety of tools. You can customize your store to reflect your branding. This can certainly improve the online user experience. Customization, however, isn't the only thing Shopify offers.
Store owners have a chance to make business cards, generate terms and conditions and register a domain through Shopify. It's safe to say Shopify is one of the best website builders that has features for both experts and beginners.
But don't make your decision regarding Shopify vs. WordPress just yet.
No technical know-how needed for Shopify
One of the biggest advantages of Shopify is that anyone can launch an online store on it. You can customize your shop and create lookbooks without any coding knowledge.
Create an account on Shopify and fill in the relevant information about your business. From there, you'll navigate to the Shopify dashboard, which is basically your control room. It enables you to manage your online store without any hitch.
Key features of Shopify
If you decide to use Shopify to build your online store, these features will likely stand out:
• Fully customizable website and online store
• More than 70 professional themes
• Integration with over 100 payment gateways
• Social media integration
• A range of supported languages
Shopify offers a free trial, enabling businesses to try out its platform for 14 days free of charge. When this period passes, you need to pay a monthly fee, which starts at $29 for a basic version of Shopify.
Another perk is that you won't need to worry about web hosting or installing software if you open your online store on Shopify. Everything you need has been developed by the platform's in-house team. Your only job is to create an account and pay.
What is WordPress?
Before you choose between Shopify vs. WordPress, you should know more about the latter software.
WordPress is an open-source content management platform that powers more than 35% of the internet. The software is currently one of the simplest ways to create your own e-commerce store, website or blog.
In the beginning, WordPress used to be the go-to solution for building blogs. The platform, however, grew its ecosystem and added various plugins over the years. This means it's practically suitable for all kinds of websites.
With WordPress, you can build:
• E-commerce stores
• Blogs
• Business websites
• Forums
• Membership sites
As you can see, WordPress is a versatile platform. It has been designed with flexibility and usability in mind. For this reason, it is a great solution for both small and large businesses.
Whether you want to publish argumentative content or showcase your products to the world, WordPress is there to make your dream a reality.
Key features of WordPress
If you want to know why WordPress is so popular, here are some of its key features:
• Flexibility: The platform allows you to create various types of websites, making it suitable for many businesses
• Highly customizable themes: WordPress themes can be customized. This enables you to change the layout of your online store as per your liking. Alternatively, you can create a custom WordPress theme.
• SEO-friendly: SEO is an important process that ensures your online store gets more website traffic. WordPress knows how significant SEO is, so it offers an outstanding code base for SEO. This helps your content appear on search engines (you can always do Google index checking to ensure your pages are indexed.
• Mobile-friendly: Customers spend a lot of time on their mobile devices. With WordPress, you can build an online store that is responsive when they visit it via their smartphones.
• User-friendly interface: WordPress is easy to use. Its focus is on accessibility, so there are no complicated settings.
WordPress makes the process of creating and launching your own online store easy. It's no wonder it is widely used around the world.
Shopify vs. WordPress: Pros and Cons
Both Shopify and WordPress come with benefits and drawbacks. Let's take a look.
Pros of Shopify
1. Ease of use
2. The number of professional themes available
3. Responsive templates
4. 24/7 support
5. Great solution for dropshipping
6. The variety of external payment gateways
Cons of Shopify
1. Pricing can be confusing. Although you pay a monthly fee, Shopify charges you for platform transactions, credit card fees and add-ons
2. Professional reports with sales information are only available on expensive plans
3. Extended SEO features are available when you pay for additional plugins
Pros of WordPress
1. An open-source software
2. User-friendly CMS
3. The amount of free and paid plugins
4. Simple content creation
5. SEO-ready with many SEO plugins available
6. Excellent social media integration
Cons of WordPress
1. Difficult to navigate through its design and options
2. The WordPress platform is free, but you would need to pay for many themes and plugins
3. No dedicated support
4. Frequent updates
Before deciding, we suggest you go over the above-mentioned pros and cons. Both of these platforms have thousands of users worldwide. However, they opted for their go-to solution after setting goals for their online stores.
Shopify vs. WordPress: Which platform to choose?
Shopify is a popular website builder for e-commerce stores. It was created with online selling in mind, so brands usually choose it to open an online shop. This doesn't mean that WordPress would be a bad choice.
WordPress gives you flexibility and control over your store. It can be a powerful tool, especially if you have coding experience.
As you're wondering what to choose between Shopify vs. WordPress, we would recommend Shopify if you're a beginner. It takes little to no effort to set up your store on this platform. However, if you have some technical experience, WordPress is also a great solution. It has better customization levels, making it ideal for tech-savvy sellers.
Conclusion
As more and more brands turn to e-commerce to boost their sales revenue, it is time your brand jumps on the bandwagon as well. Shopify or WordPress can help you set up your online store. Which of these two tools should you use?
The final decision depends on your goals, budgets and ideas for your store. For a hassle-free experience, go with Shopify. If you have time and resources, however, build your online store with WordPress.
About the author
Dmitriy Maschenko is the head of a division and a Board member at PSD2HTML, a company that offers top-notch web and mobile development services to all kinds of clients, from S&M businesses to agencies and governmental bodies. Dmitriy went all the way from a developer trainee position up to where he is now. With 12+ years of experience in the IT industry under his belt, Dmitriy has a wealth of knowledge to share with his readers. He writes on topics related to business management, website & app development, and everything in between.