Choosing the right productivity tool. | Photo Credit: Unsplash
In building your startups, there are many tools that you need to ensure the successful running of your startup. These methods go a long way to maintain your startup's efficiency and growth.
To understand this concept, we first need to understand productivity tools.
What are Productivity Tools?
They are simply the tools that help your workforce and management group perform better as a team by tackling daily problems and meeting every goal set.
Your startup may employ numerous methods to foster productivity and growth daily. Thus, in turn, enabling you to operate and manage the startup better.
However, many tools exist, making it hard to find what works precisely for your startup. Some productivity tools are more effective than others, and as such, finding one with the right fit for your business is vital.
Being an entrepreneur usually means having a lot to do with less time on your hands, and this is where productivity tools play a massive role for startups. Productivity Tools are designed to help businesses and organizations manage numerous tasks, daily duties, and functions.
Here, we will examine some productivity tools like project management, resource planning, web analysis, and accounting and profit analysis, coupled with their examples of how they can benefit a startup.
1. Project Management
As you know, project management is very vital for startups. It was once a more cumbersome affair using papers or whiteboards. But in this modern age, there is an extensive range of project management tools. These tools help you manage your duties and operations irrespective of how large your team is or how complicated each task or function is.
Using the right project management software will help you locate details and make complex tasks more automated and straightforward. These tasks that typically seem time-consuming and stressful become easy and quick to carry out.
Examples of project management tools include:
● Jira
A good project management tracking software is Jira. It is a software that carefully plans and measures startup operations and tasks. It charges $7.00 per month for 11 to 100 users and has available custom pricing for enterprises.
● Pipefy
Another good example of a project management tool is Pipefy. It is used chiefly for remote organization teams because you can use different processes without user error or malfunction. It charges about $9 per user per month.
● Asana
Asana is a project management software that is known for ease of use and simplicity. It is one of the best ways to keep track of different tasks and operations and assign things to your team members.
You could quickly start a new project and write down instructions for any team member, then return after some time to access the progress of the work being done. The pricing range for Asana includes paid plans from about $9.25 per user per month.
2. Resource Planning
In startups planning and running, allocation of resources is very important. ERPS or Enterprise Resource Planning Software is used to monitor operations and automate various actions to improve general startup efficiency.
Larger organizations use this software more because managing resource planning is quite challenging and is handled by a large team with a lot more experience.
They are various enterprise resource planning software with different uses, but each aims to improve data distribution and make resource planning easier. ERPs are commonly used for security patch updates, managing payroll, and keeping a record of inventory. Examples of resource planning tools include:
This resource planning software is used for time scheduling, leave management, keeping track of payrolls, and creating budget reports. Team deck makes it easy to manage a plan for your team's work while carrying out automated data reports that are provided daily. For groups of two users, Team Deck is free. But for more users, it costs $3.99 per user every month.
● Float
Float is another excellent example of resource planning software. It enables you to create and manage team schedules and also assign various tasks. You can easily search for employees by their tags, live notifications, and email reports to keep every member of your team informed. Float is free for 30 days on initial use and costs $5 per user per month afterward.
3. Web Analysis
It is vital to know your websites' traffic data in startups as this enables you to access and study your customer and market base. Web Analysis holds tons of information that are integral to providing insight into the success of your product-market fit. Examples of good web analysis tools include:
Google Analytics is very popular. Unlike most analytical tools, the more you understand it, the more it efficiently works for you.
This tool is excellent in determining where your web data traffic comes from with good timing and presentation.
4. Accounting and Profit Analysis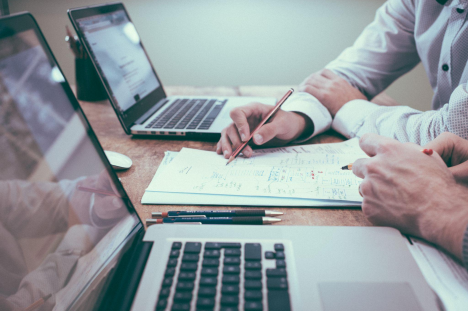 People carrying out financial analysis with productivity tools. | Photo Credit: Unsplash
Using the right accounting and profit analysis software can be the difference between an efficient startup and a struggling one. Typically, accounting is termed a tedious exercise, but you can easily make accounting a fun endeavor with the right account and profit analysis tools.
Some examples of accounting productivity tools include:
Quickbooks enables you to save good time on accounting duties by easily keeping accounts of receipts and automatically generating reports. It has a 30 day free trial period, after which you pay about $20 per month.
● Xero
Xero accounting tool is cloud-based and easily accessible online. Numerous automated processes are carried simultaneously out to make you quickly work through the rigors of accounting. It has multi-user access and provides you financial overviews in real-time.
Conclusion
Having productivity tools for your startup influences the effectiveness and growth of your business. The enormous world of productivity tools and software is a fun place to be in.
Asides from the suggestions above, there is a broader range of productivity tools at your disposal to solve almost any issue you could think of in your startup. Productivity tools enable you to look at your daily routines and identify areas of improvement. And with very little research, you can benefit from a lot of tools out there
.
About AbstractOps
If you're an early stage CEO, AbstractOps handles and automates your HR, finance, and legal ops — so that you don't have to. We help you Be Scrappy, Not Sloppy.
We understand that ops can be painful. If you have any questions or need assistance with your ops, drop us a note at hello@abstractops.com. We'll do our best to help.
References
Thedigitalprojectmanager:10 Best Project Management Software For Startups [2021] Medium: The best financial analysis and reporting software for small business ProofHub: 54 Best Project Management Tools & Software for 2021 Weblogic: Why should you use productivity tools?