Killian is "killin it" with its sleek curves and professional looking style. It is just what the doctor ordered and the price is FREE! You can demo or download the beauty right here:
http://www.solostream.com/free-wordpress-themes/
Check out how great it looks!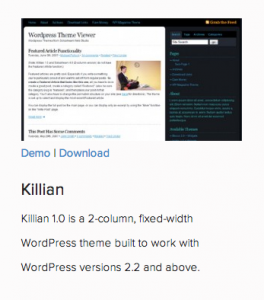 It is honestly one of the cleanest 2-column themes I have seen, considering that all the widgets are stock with the theme, you will have no problem replicating the design model shown on the page. Just setup the theme any way you want and have plenty of options for editing, publising, and organizing your web page or blog.
There are plenty of MENU user options, and alternative displays for the number of posts to be shown on the front page, as well as choose what is shown with each post. As an added bonus, you can even plug wide right into your post feed since the two column specialty in this theme is having a wider first column capable of presenting a wider, more landscape view of the main posts, while the secondary widget material is placed in the side, adjacent column.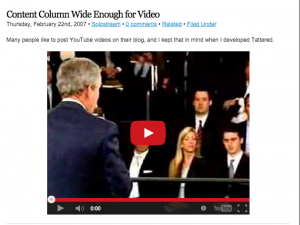 For more information on this theme, just head on over to the demo page, and see how awesome we are:
http://www.solostream.com/demo/killian/
When you want to get a premium package, you know where to go. Just enjoy the freebies until you want some really great, professional themes!