It is my immense pleasure to announce that an "idea" which took root a couple of months back is finally on the verge of realization.
YOU – my blog readers and social media buddies – has been a constant source of support and motivation.
All it Takes is an IDEA!
Follow any entrepreneur, the beginning of their success story lies in the germination of an idea. An idea is a fluid concept. It is a seed, a thought which takes root in your mind and it is unbelievably difficult to shake away that idea, especially when you have faith in its potential.
This is what happened to me and the result is Schema Ninja.
From spending hours at the desk in a life throttling job to being on the verge of releasing my own product, the last 3-4 years of life is a roller coaster ride.
Never in my wildest dreams did I envision to have a product of my own. The Internet world is vast. When I came into the industry, I had no clue to how it worked and whether you can generate a sustainable income out of it and lead a lifestyle I always wanted.
There were times when I was on the verge of 'giving up' but I learned to hustle.
BUT, I always knew that perseverance is the key to success. I wanted to make a dent in the Internet world, to leave a lasting impression and Schema Ninja is but a beginning in the right step. – Jitendra from Bloggersideas
The Potential of Schema Ninja
A lot of you has asked this question – why did you create Schema Ninja? I will answer it today.
Blogging and affiliate marketing industries have made me what I am today and this product is my way of paying it forward.
Schema Ninja is not only a solution for bloggers and affiliate marketers to dominate the search engine game but it works for any niche and any industry. If you depend on search engines to get traffic and hence, more sales and more money, Schema Ninja is the plugin for you.
My product is the next generation rich snippets plugin – a very advanced schema rating plugin available in the market.
What is Schema?
Schema is a concept that evaluate a page on a numeric scale of 1 to 5 stars. See the screenshot as an example.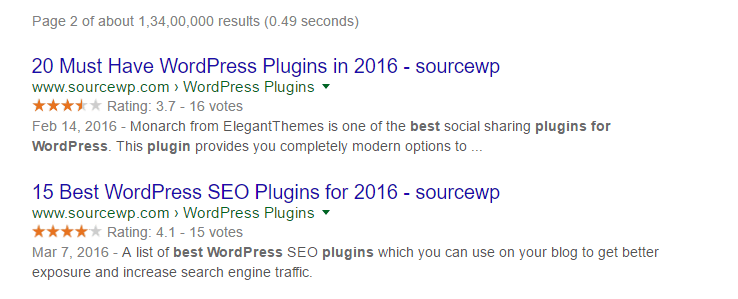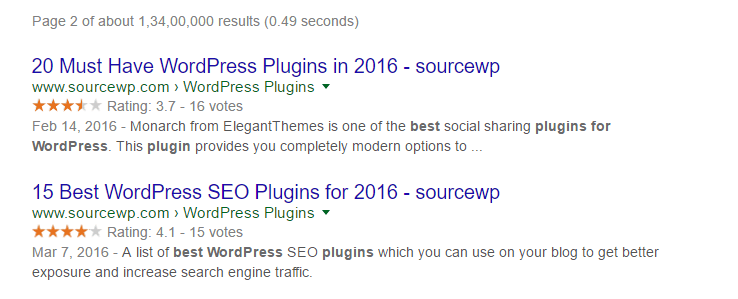 Various data and researches prove that pages which appear in search engine results with the star marking have a higher trust factor. In other words, people are more likely to click these links than others.
Earlier, it was tough to apply all the basics of Schema to be able to get this rating. There are do's and don'ts to follow, and quite frankly, it is not in the capacity of everyone to understand the technicalities of Schema.
This is where my product, Schema Ninja, comes in. This WordPress plugins saves you hours by making your blog / website schema mark-up ready. 
Disclaimer: The plugin will not give you the search engine stars. It is entirely the prerogative of the search engines. What the plugin will do is make your web pages 100% schema ready so that the probability of getting those search engine stars is higher.
Schema Ninja plugin works for ALL WordPress users.
If you have a WordPress blog and you want to earn money from it, use the Schema Ninja plugin.
I have been using the plugin since its conception; the traffic and income from my blogs have quadrupled.
Traffic Screenshot Example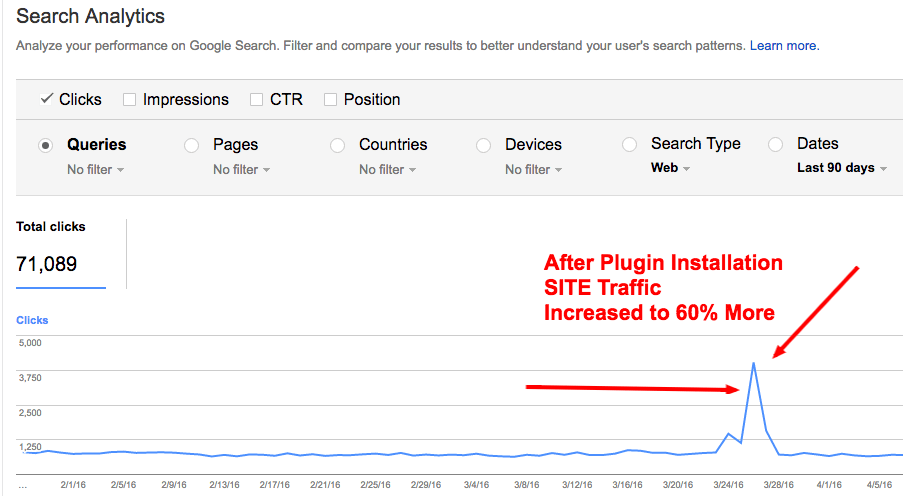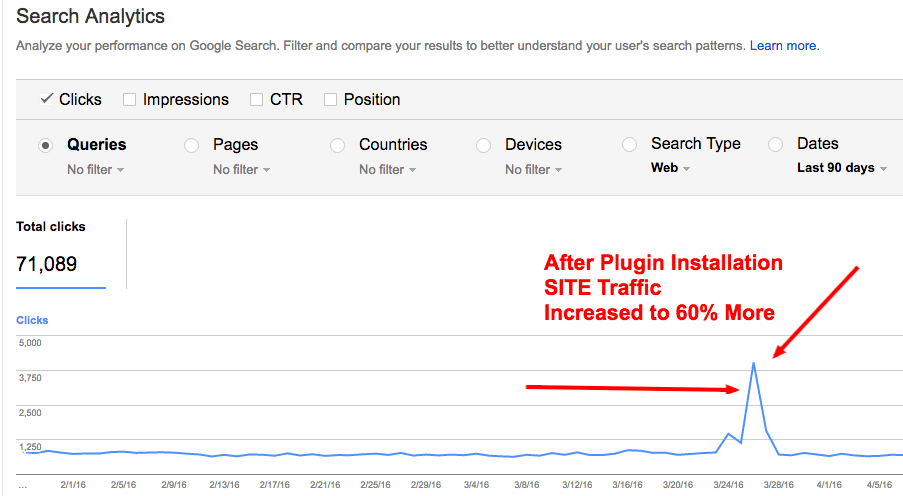 Income Proofs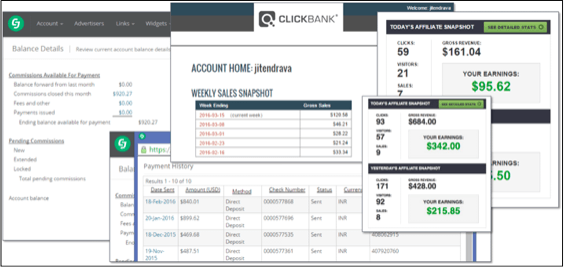 You can do just about anything with this free and targeted traffic.
Schema Ninja Features: Reviews & Recommendation
The two essential features of Schema Ninja are:
Both these features are enabled with affiliate links. I mean you can add affiliate links to either of the options and make money.
The Reviews feature is added either on the top or bottom of every post. For example, if you review iPhone 6, you can create the Review feature like these screenshots.
Screenshot 1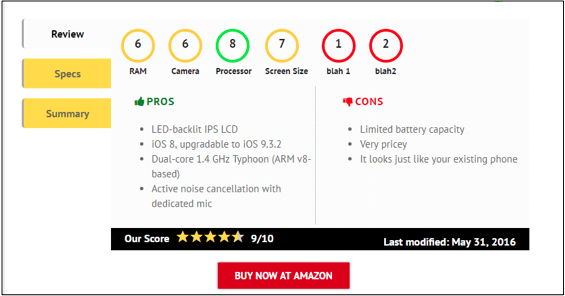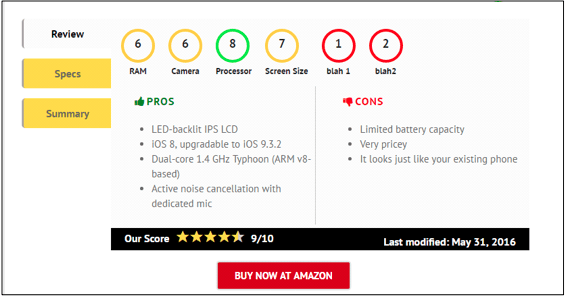 You link the affiliate to anywhere. Here, I have done to Amazon. You can give point-based ranking and list the pros and cons.
Screenshot 2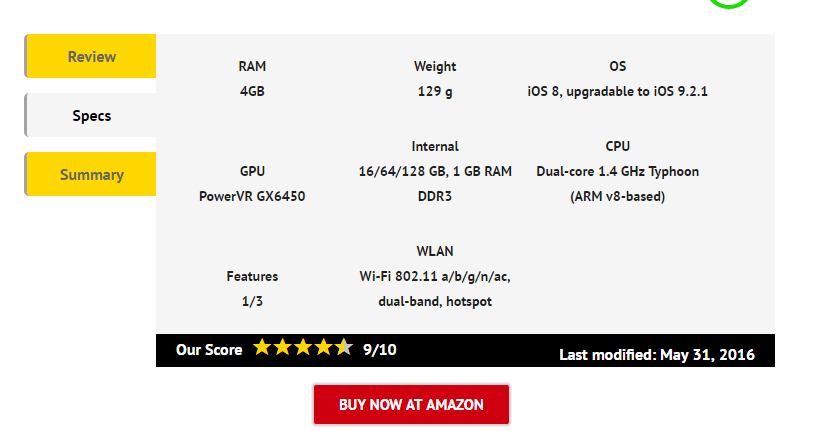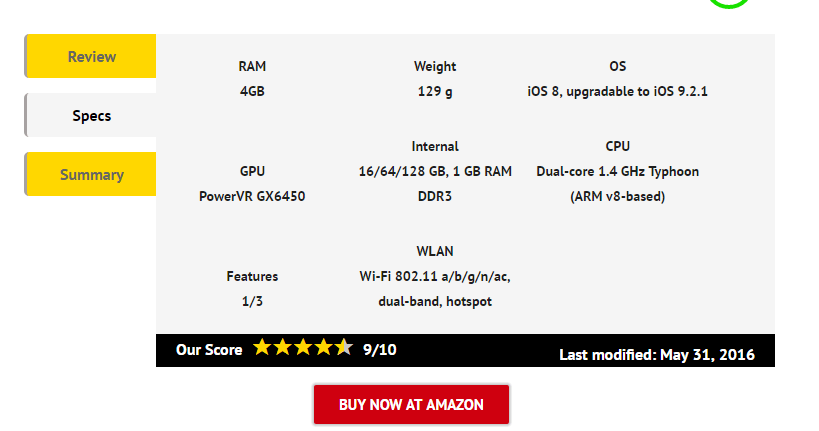 The second layout is the specifications. I have listed few specs of iPhone. If you do not want to highlight specs, you can skip it.
Screenshot 3


Here, you give a nice write-up on why iPhone 6 is worth purchasing.
Also, notice the "last modified" date. This feature adds newness to the updates and hence, makes it more rank-worthy due to its freshness of content in the eyes of search engine.
On the other hand, it is beneficial for users to see and trust that the ratings are frequently updated, which increases your chances of generating a sale.
The Recommendations feature can be added on the top or bottom of every post, and in the sidebar. This is something which you would like to display on every page or every blog post.
In Bloggersideas.com, I push for web hosting sales, and therefore, you will see the Recommendations feature add at the bottom of every post and in the sidebar.
Let me explain with examples.
Screenshot 1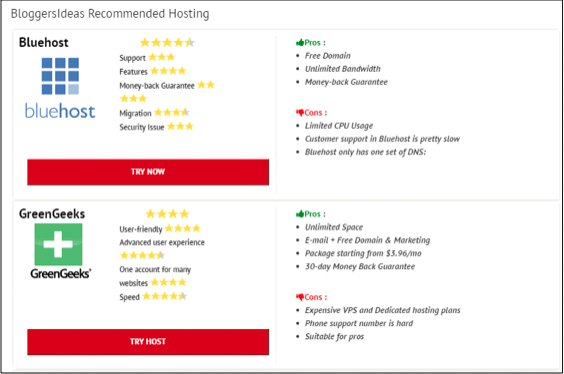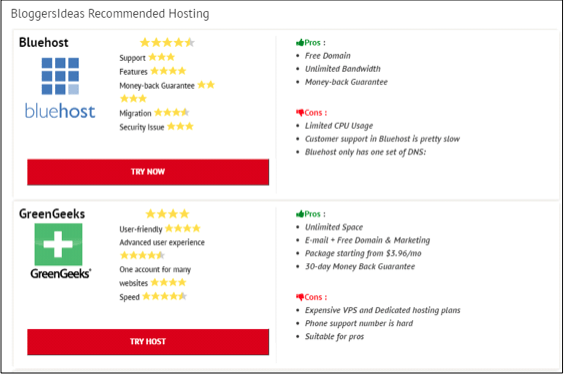 Here, you can highlight its benefits and also list its pros and cons. This display gives the viewer an idea about the product or service. For detailed exposure, you can direct the reader to a detailed review of the product or service or as I have done, you can directly refer the user to the buying site via the 'Try Now' button.
Screenshot 2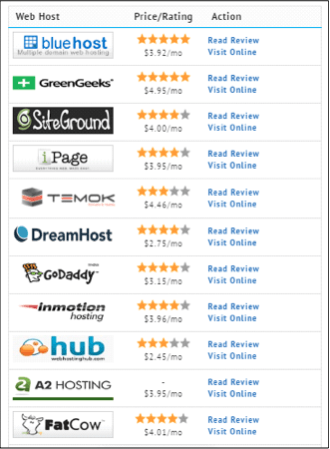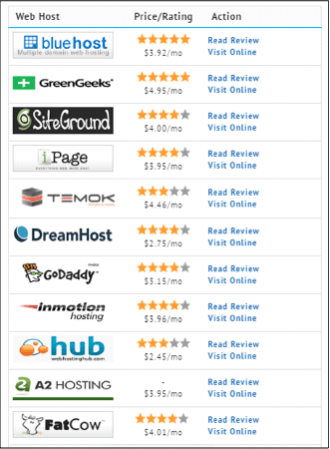 This is the sidebar version. You have;
The star ratings

Logo of the business

Option to send visitor to a detailed review hosted on your blog

Option to send visitor directly to the buying site with your affiliate link
It's a completely holistic display.
Few Other Points
After the Schema Ninja is purchased, you will receive a license activation key. You can change the display colour as per your choice through custom CSS.
The plugin is very lightweight and it will not throttle your web server.
In closing, I hope you find the Schema Ninja very useful to your business. As always, feedback and support is always welcome.
About the Author: Vashishtha Kapoor is a content marketer and a young active blogger from India who blogs at vashishthakapoor.com. With both eyes focused in contributing the web with interesting and helpful feeds, he contributes to many good blogs like Bloggingtips, Blogreign, BloggersIdeas.com & lot others.