Electronic commerce or e-commerce, as we better know, has become an important part of modern trade system worldwide. If you have created a WordPress website for your business and need to build up an online store for it, then you will probably need to use appropriate plugins in order for your store to look pleasant and attract new clients and visitors for your website.
Creating a well-organized product catalog has now become quite easy. There are various plugins for WordPress that can help you when building your online platform or store. But it's sometimes time-consuming to try different plugins. That's why we present a list of some helpful plugins you could operate while creating your online store.
Huge-IT Product Catalog

This is one of the most popular and highly rated Product Catalog plugins applicable for WordPress websites. It enables users to demonstrate and sale products online. You actually create your own online store for your WordPress website with this tool easily. Product Catalog offers you a variety of functions that are very easy to operate.
You will have an online store with zooming options, comment block, sections for price and discount price, and many other features.
Product Catalog offers you an ability to create a store with unlimited number of products. You can also sort the catalogs by categories. A lot of options help to optimize images and sections, for instance, one of main options of this tool helps to add single and multiple images to each product in different catalogs within their categories.
Your customers have certain abilities, too. They can rate the products, add feedback, and write reviews which will show up for each product. Product Catalog offers you Drag & Drop function to easily change the order of the products.
In admin page it offers custom fields with product's characteristics, like color and price, and besides that you can add more fields.
Huge-IT Product Catalog license provides you with a high level of customization for almost all aspects of the catalog, beginning with the background color and size of the text inside the cell of the product ending the number of products in the series and the number of comments on the product page.
Huge-IT Product Catalog offers you 5 views for your catalog where all your products are demonstrated. They are Block Toggle Up-Down, Full-Height Blocks,Catalog Content Popup, Full-With Blocks, Content Slide.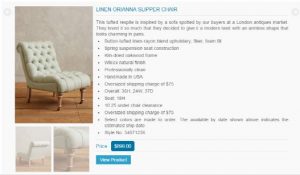 Content Slider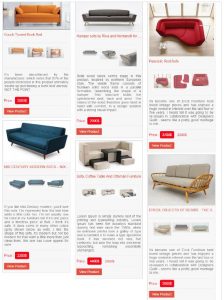 Full Height Blocks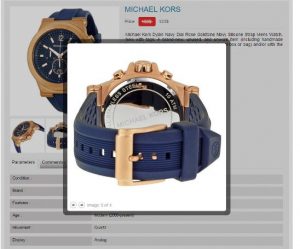 Single Page
For those, who want additional functions for the plugin, Huge-IT offers Product Catalog Pro Version.
Besides basic Product Catalog Plugin in General Options for Pro Users you can find an additional plugin to it, called Catalog Related Products.
You can find more details about the customization in the User Manual of Catalog Related Products plugin.
Your admin page includes:
*Main image
*Additional images (thumbnails)
*Title
*Description
*Price
*Discount price
So, which are the main features?
*5 view options
*unlimited amount of catalogs and products
*full responsiveness
*single product page
*parameters and comments tabs
*image zoom
*image Lightbox popup
*contact seller form
*share and rating
*user-friendly admin panel
The 5 view options are the following: Block Toggle Up-Down, Full-Height Blocks, Catalog / Content Popup, Full-With Blocks, Content Slider.
Add unlimited number of catalogs and products in a single catalog. And as you created a number of catalogs, you can add as many catalog shortcodes in your website, as you need.
Plugin is fully responsive for different sizes of screen. So, your products may look appropriate in any device.
Single Product page generates automatically for each product. Here you will see detailed information about each product, including parameters, rating, share buttons and others.
In each Product Page you can find Parameters tab , next to it Comments tab. This is a great ability for your visitors.
Image zoom is very useful feature, with which you can zoom every pixel of the product image and see it's details.
Use Lightbox option to show your images in full size. Click on the image and it will be opened in fancy popup with real (bigger) sizes.
"Contact Seller" is a good ability for the customer. To make a purchase or to ask some question in catalog, they can fill the special form and submit the message.
Share and Rating features is also a useful one for you and your customers! it allows your customers rate the product and share it on different social networks, rating can be also managed from "Rating Manager" section
Admin panel is full of user-friendly features, from there you can choose catalog styles, add millions of parameters, change the order of the products and many-many other things that will make creating catalog process easy and enjoyable.
Maps Builder – Google Maps Plugin

If you have created an online store for your products, but you want to add location to your website as well, you will definitely need a Google Map plugin. We offer one of the most flexible and easy to use WordPress plugins Maps Builder_through which you can build a creative Google Map directly on your website. It will take you only a couple of minutes to create your Google Map for your online store.
The Maps Builder enables you to edit full screen in a Customizer-like environment. This means you can watch all the process of creating your map. You can display nearby business locations and points of interest complete with ratings, custom marker icon. Google Map theme will look beautiful with any design powered by Snazzy Maps, as Maps Builder plugin is integrated with Snazzy Maps. You can also set icons and colors for your map markers. All scripts and styles are optimized and packaged with Grunt. So you will have a very creative and modern interface using the Maps Builder_Google Maps Plugin for your WordPress website.
Social Share Buttons by Supsystic

You can make you online store socially acceptable by using one of the Share Buttons plugins. This will increase your social popularity and will take social sharing on a next level. It will contribute to the social activity on your site. To have all this you can install for example the Social Share Buttons plugin by Supsystic.
It is a simple, eye-catching social sharing plugin with full customization and various features, such as
*Over 15 Social Networks (Facebook, Twitter, Pinterest, Google+, LinkdIn etc.),
*Responsiveness (which means that it is very easy to operate with different devices)
*Professional Templates of the Social Media Icons & Share Buttons
*Choose pages to show social share buttons
*Simple share buttons configuration and design
*Customizable design and animation effects
*Different Buttons Placement Option
*Content Lock.
Social Share by Supsystic is an easy and fast way to let your visitors share your content to social networks. The plugin is fully responsive and easy to use, so it looks nice on different devices and themes. Because it's easy to operate, you don't need to have any programming knowledge or skills to create your own design of share buttons You can easily set the template, size, animation, position of the buttons. The plugin provides you the ability to choose different parts of the page to show share buttons, which will be very useful for you especially when adding it to an online store. Using our plugin you can create Facebook share button widget with share buttons and show the sharing toolbar at theme's widgets areas. With this options of Social Share buttons, you have much more chances to attract a wide variety of your website visitors. The plugin allows you to choose the various options when to show social buttons (like Facebook share button) – when page load or when user click on page. You are also able to hide social buttons on mobile devices.
Social Share solution offers you a number of design buttons options and different animation effects. You can choose for example Facebook share buttons design according to your website design, choose buttons size, add button spacing, enable displaying of social share counter, select button and icon animation.
Social Buttons Design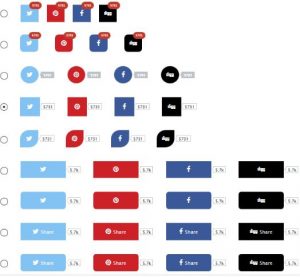 This is a very useful plugin, if you want to give users the tools to share your product details and be easily available.
Notification Bar for WordPress
When you have created your WordPress online store you may want to notify your website visitors about your new offers and goods. We can offer you a Notification Bar by 8Degree Themes. It is a free WordPress plugin that enables you display a notification in your website. The plugin is responsive and has various useful features that simplify the user needs.
The plugin has a number of important features.
Your notification can be placed at the header or footer, left or right side of your website, where we you find it appropriate to place.
It has highly customizable color settings, font settings, animation effects, placement options etc.
Backend Display Settings Panel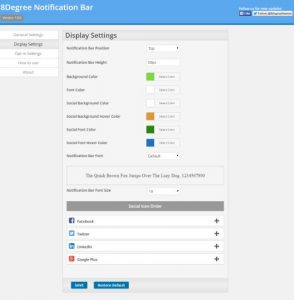 You will have the ability to place the notification in the 4 different parts of the website i.e. header, footer, left side or right side. You can locate it anywhere which you find more suitable than others. You can change the background color with your favorite color and create an interesting notification bar. Font color also can be changed easily.
There are some notification types: Normal Text, Subscribe Form, Slider and Ticker. It has a social profile section with Facebook, Twitter, LinkedIn and Instagram. The plugin allows you to choose the effect types to show notification. There are three animation effects available: Static, Scrolling – left to right, Scrolling – right to left.
You can change the font size and color, choose from 500+ Google fonts with live preview.
The plugin is mobile responsive, it is simple, easy to use and user friendly.
Custom Login Form

If you want your visitors to become logged in to your website in order to see your goods and receive notifications, then you will need a certain plugin. In the list of WordPress plugins you can find Custom Login Form which is a free and customizable plugin. It does not send the user's data to third parties, as it offers a high secure login form. You will have a customizable login form design.
You can design your login form with shadows, borders, colors, backgrounds, transparency, etc. After activating the plugin you can configure design of your new login form, paste the login form plugin shortcode on any page or directly in post text of your WordPress; test your created login form, then you can deactivate standard WordPress login form.
You will be also able to add other settings of the login firm plugin, such as redirections captcha code, form design, etc.
The login form plugin can be used to customize WordPress admin login or client login for WordPress websites.
We have just offered some of the useful plugins which you can use while creating a WordPress Online Store. You can find a number of other interesting plugins in WordPress, depending on what you want to add to your online shop. But the above mentioned plugins are the basic ones which you will need to create your  online store, easily used by your visitors and customers.