While this latest WordPress update is not a major release, there are a number of helpful updates that every WordPress user will probably enjoy. The last major release, WordPress 3.9, was completed earlier this year and brought improvements to media management and the WordPress editor. With WordPress 4.0 Benny, the developers have made a few tweaks to make the interface a little more streamlined and user friendly. Check out the new updates and changes that can be found in WordPress 4.0 Benny.
Updated Media Library
The first change to mention is an update to the media library. With the release of WordPress 3.9, the media library gave users the ability to drag and drop images directly into their editor as they create pages and posts. The latest update streamlines the entire media library. Now, users have a grid style view of all of their media including pictures, videos, and audio clips. Browsing through your existing media or editing pictures has never been easier.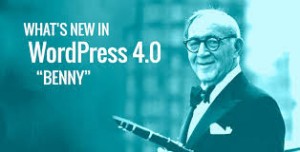 Changes to the WordPress Editor
Several changes have been made to the default WordPress editor. First off is the automatic embedding of specific content from social media sites. Whether you want to add a video from YouTube or a tweet from Twitter, users can simply paste the URL into a new line in their editor. Instead of having to view a preview of your post or page to see the final result – embedded content is available to preview live in your editor. They have also added support for more services such as TED talks and videos from CollegeHumor.
In addition to updating the way that WordPress handles embedded content, the WordPress editor has a more user friendly interface. As you scroll down the page, the formatting tools remain visible. The editor will also automatically expand to accommodate the content that you are writing. These minor tweaks go a long way to making the process of writing posts and pages more straight-forward. The newly updated editor is smoother and more functional, especially for those using WordPress on a smaller screen.
Better Access to the WordPress Plugin Directory
Searching the thousands of plugins that are available for WordPress from your dashboard was always a bit of a hassle. WordPress has improved the search capabilities for finding plugins and made the browsing process more visually appealing. This new layout should make it easier for most users to find the plugins that they want quickly.
After just six months, WordPress has released their new update. WordPress 4.0 Benny is named after Benny Goodman – an American jazz musician. The new update helps make WordPress more accessible to the general public by streamlining the WordPress editor, updating the media library, and improving how users can search for plugins. The developers were quick to point out that this was not a major release but instead a minor update to make some changes for a better management experience. Hopefully, everyone will appreciate these updates and continue to support this incredibly popular open-source website creation platform.