Owning a small business comes with a whole host of challenges and necessary steps to ensure success. In the modern world, one of these steps is the development of a website and the building of an online profile to help reach potential customers. Many business owners will outsource the creation of a website to a web development team, which can cost a decent amount of money. WordPress makes it easier to for people with no web design experience to create their own website; though, even with the simple interface provided by WordPress, this can still be a challenging process. That is why, if you are planning on creating your own WordPress site and have no knowledge of web design, you should consider using a WordPress theme that uses a drag and drop interface. Before shelling out loads of money to a web design team, look over the benefits of using a drag and drop WordPress theme.
Understanding Drag and Drop
So, what does drag and drop actually mean? Normally, when creating a website using WordPress, many of the options are listed individually and do not provide a real time representation of the final appearance. Users must go from one option to the next, altering the look of their WordPress website. Using drag and drop, users can drag pre-designed elements and drop them where they would like them placed. With drag and drop WordPress themes, you can simply drag and drop elements to arrange your website the way you see fit. Without any coding knowledge, you can create a website to represent your business without hiring web designers or having to deal with the complexities of the standard WordPress interface.
Premium Drag and Drop WordPress Themes
Even though you can save money by using a drag and drop WordPress theme, when compared to hiring a professional website designer, getting one of these themes may cost you a few dollars. In order to create a drag and drop interface, most of these WordPress themes require additional WordPress plugins. The development process required to create these themes means that the majority of drag and drop WordPress themes will not be free. These premium WordPress themes provide features that needed lots of coding and development; however, the cost is still minimal and there are additional advantages to using a premium theme. Premium themes offer regular updates, more technical support, and tend to have fewer compatibility issues.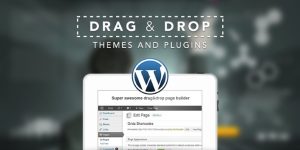 Choosing a Drag and Drop WordPress Theme
There are dozens of different drag and drop WordPress themes available. When choosing any premium WordPress theme, take the time to read reviews by other users and ensure the theme gets regular updates. Also, look for extra features provided by these themes. Some of these themes may be geared towards your industry. For example, there are premium drag and drop themes created specifically for ecommerce and others designed to be used for portfolios. Look at a selection of themes that meet your needs and narrow down your options by comparing features, price, and user reviews. Additionally, WordPress themes usually offer a live demo, to give users an example of the final product.
Take your time to choose a drag and drop WordPress theme that will help represent your business in the right light. You may be surprised with how easy it can be to build your own website with a drag and drop theme. Start building the perfect website today.