WordPress Users from all around the globe have been itching to get WordPress to add a Duplicate Page or post feature into the core of the CMS, but alas, they must continue to wait, or use a plugin instead. The plugin that adds this functionality is the called the Duplicate Page Plugin.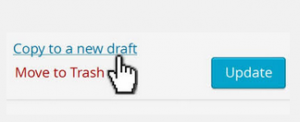 The Plugin offers a conveniently blended interface to the page so that users can easily create a duplicate with the click of a button. The plugin is free, and can be found here:
https://wordpress.org/plugins/duplicate-post/
However, like all great free products, it is always good to give a little donation to the development team for making such a great product in the first place!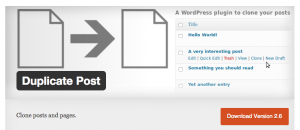 WordPress writes:
How it works:
In 'Edit Posts'/'Edit Pages', you can click on 'Clone' link below the post/page title: this will immediately create a copy and return to the list.
In 'Edit Posts'/'Edit Pages', you can click on 'New Draft' link below the post/page title.
On the post edit screen, you can click on 'Copy to a new draft' above "Cancel"/"Move to trash".
While viewing a post as a logged in user, you can click on 'Copy to a new draft' as a dropdown link under "Edit Post" in the admin bar.
2, 3 and 4 will lead to the edit page for the new draft: change what you want, click on 'Publish' and you're done.

Some users will continue to do it the "hard way", and just copy and paste the content and get a similar effect without doing all the fancy jazz that the plugin is capable of producing, however, there are also other ways to create duplicate post, and that is with another plugin that allows you to repost a post.
When you repost a post, from the same site or another site, in effect, you are essentially duplicating the post. And, don't forget you can always go to the Plugin Area within your Dashboard Interface and search new plugins and see what is in the pipeline as more and more great combinations continue to unfold across the platform. Stay tuned for more great themes from us as well as we continue to integrate some of these added functions right into our professional business themes. Not sure, buy one of our packages and get the professional toolkit you need.