Are you new to the world of blogging? Personal bloggers, and now many businesses that use blogs, create regular blog posts to help drive visitors to their WordPress site. Whether you are new to blogging or have a basic understanding of it, grasping that there is a difference between posts and pages can be confusing. Even you do not plan on creating blog posts, you should still take the time to learn more about the differences between WordPress posts and pages.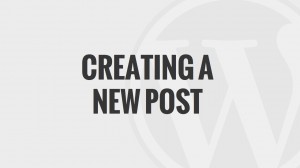 What is a WordPress Post?
Technically, all pages created with WordPress are posts, as far as the WordPress database is concerned. Pages are just a specific type of post called a page. On the other end, blog posts are a type of post. For WordPress users and the visitors to your site, a blog post is what makes up a blog. When WordPress was first created, the original purpose was to create blogs. The easiest way to understand the purpose of a blog post is to imagine articles inside a newspaper. These articles are relevant at the time they were created. Over time, they may lose relevancy.
Whether you are providing informative information or blogging about your personal life, blog posts are typically created to get a single point across. These posts are normally not updated, which makes them time sensitive. Also, your posts can be organized with categories and tags. These posts are what visitors will see when they arrive at your main blog page or if you use a widget to display your most recent posts.
What is a WordPress Page?
As mentioned earlier, a WordPress page is still a post, when stored in the WordPress database. To users and visitors, a WordPress page is a static webpage. These pages can be updated at any time and do not typically contain author or date published information. The most common reasons for creating a page include having a contact page, an about page, or even a homepage. If you are using your WordPress site as a content management system for your business, then you will mostly be dealing with pages.
WordPress pages can be organized into a hierarchy, with parent and child pages. Also, these pages are what normally make up the menu along the top of a website. While posts are organized into lists and archives, pages are often used as the main menu for navigational purposes.
Organizing Pages and Posts
The bottom line is that posts are time sensitive articles while pages provide static content that does not change as often. When creating posts and pages you should take time to organize them. With pages, decide whether a page would be best served as a child of another page or if it should stand alone. For posts, be sure to make use of categories and tags. Categories can be used to group a large amount of posts, while tags can be used as an index for visitors trying to find posts related to a specific topic.
Basically, if you have time sensitive information to share, a tutorial to present, or other helpful information, it will probably work best as a blog post. For static information, such as contact information, details about you or your business, and pricing or services, consider creating a page.