If you want your WordPress website to appear professional then you should make it easy for visitors to contact you. Obviously, there are different ways to allow visitors to make contact and you will need to decide what methods of contact you will include. For example, if you have personal blog, you may not want to include a phone number; though, for a professional service or business, not including a phone number could be a turn off for some potential customers. In order to increase your legitimacy, learn how to allow visitors to your WordPress site to contact you.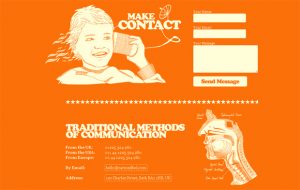 Contact Forms
Contact forms should be included on just about any website. This is the most convenient way to allow visitors to get in contact with you. If you do not plan on listing a phone number anywhere, then at least include a contact form. There are many high quality contact form plugins for WordPress. These plugins will let you choose the fields for the form and style it how you see fit. Include a contact form on your contact page, your sidebar, or along the footer. Most contact form plugins will include some form of captcha, which is used to ensure the person submitting the form is a real person.
Post Comments
Using WordPress, you are probably going to create posts. The popularity of blogs and helpful articles has reached a point where most businesses now have their own blog. Make sure that you pay attention to the comments left on your posts. This will show your readers that you care about their input. Some visitors may prefer an alternative way to leave comments. By installing a WordPress plugin, you can replace the default WordPress comment section with a Disqus comment system or even allow visitors to comment through their favorite social media account. For example, the Social Comments plugin includes options for Google Plus, Facebook, and Disqus.
Adding Email and Phone Numbers
Phone numbers are not necessary for personal blogs; however, most businesses should have a phone number visible somewhere on their website. Include your phone number and email on your contact page or along the footer. For personal blogs, entertainment sites, and individual professional services, you should still display an email address on your WordPress site. One of the first signs that a website is malicious or not legitimate is a lack of contact information.
Using Social Media Plugins
Connecting your WordPress site to various social media is another way to remain connected to your visitors. Ensure you have some method of letting visitors share your content on social media. This can be accomplished by installing a social media sharing WordPress plugin. Both WordPress SEO by Yoast and Jetpack WordPress plugins include social media sharing buttons. In addition sharing buttons, consider adding a Twitter or Facebook feed somewhere on your site.
The more ways that visitors have to contact you, the more sincere you come across. From personal blogs to professional business sites, contact information is a must. Think about what options you want to include on your WordPress site and stay connected to potential customers and visitors.