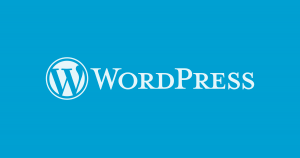 Image source: https://hostpapa.blog
WordPress is an open-source, free, and a safe and secure content management system. The data from W3techs suggest that WordPress holds 58.55% of the total CMS marketshare which ensures the dominance of this CMS on the web. This is no surprise that presently around 30% of the internet's websites are powered by WordPress, and with the successful plugins and extensions it is introducing for the developers, the WordPress's future seems bright and shiny.
The trend of building online websites to sell digital and regular products, or subscriptions and services had a spin in the last decade and is now become a profitable source of business. Businessmen, website developers and designers, and the digital marketing team; everyone is now assembled and compelled to do the finest jobs that they can to establish a working and reliable e-commerce store. The number of e-commerce websites is gradually increasing as every year passes by.
Presently, $192 trillion e-commerce sales are carried out worldwide and this is only made possible owing to the presence of highly-functional and customizable e-commerce platforms. If we look over another statistic, we'll see that WordPress e-commerce plugin named Woocommerce is one of the most popular and leading e-commerce plugin consisting of 32% of the e-commerce market at the moment. This is then followed by Magento 18%, OpenCart and,Shopify.
What makes WordPress unbeatable?
The statistical data mentioned above and the practical usage and preference of WordPress, a free, scalable and a finest CMS directs us to the fact that, without a doubt, WordPress is a python in the world of e-commerce and provided that it continues its development in different technical domains, it can soon make other e-commerce platforms obsolete. Don't you think so?
One thing that you should clear here is that WordPress is mainly a blogging website but coupled with its highly-functional Woocommerce and the WooCommerce registration plugin; you can build one of the most challenging and highly-equipped e-stores. In comparison to WP, other platforms like Shopify, Weebly, Magento, PrestaShop, Joomla, OpenCart, and many others are the applications specifically designed to construct online stores for sales and purchases. You must be thinking that this gives other platforms an edge over WP? Well, this is where WP surprises you with its delicate, exquisite, scalable, and cost-effective approach towards e-commerce. Here are the few main things that make it distinctive in the world of e-commerce website building programs:
Amazing woocommerce registration plugin
As the checkout, billing and payment system of an e-commerce website matters a lot, as its slow speed and low-quality service is the most common reason for cart abandonment,the role of Woocommerce plugin swipes in here. This plugin helps in streamlining the user's details and data which is then saved into the unlimited custom fields that it offers. The plugin also covers the role of updating the users about the latest notifications and updates.
Open source website builder and the flexibility it brings in
Being an open source website builder allows the developers, designers, and the e-commerce businessmen to control the way it functions. The access to the platform codes gives you the freedom to modify the Woocommerce website and the tons of plugins with which you can play give you a great deal of flexibility.
On the other hand, a platform like Weebly and Shopify are less flexible in its comparison. Weebly allows you to edit the HTML and CSS codes to some extent but does not grant you permission to add non-Weebly tools, unlike Woocommerce.
Pricing and financial commitments
The platforms like Shopify, Prestashop, Magento, and others offer a good range of free themes and plugins but the ones with high-functionality and more extensive features are only available after purchase. Keeping this in view, Woocommerce fulfills the expectations of the majority of the users by offering a wide range of free features. It comes with 55,738 plugins till this date and each one of them is updated on a regular basis to ensure quality functioning.
Ongoing updates, maintenance, and security
When it comes to the performance and security updates, in systems like Weebly, these are managed in the background by the system itself. Even Shopify and Magento takes care of the maintenance and security updates itself. But with Woocommerce, the developers are in charge of making sure that the update of the system, plugin, extension, theme or the template takes place on time. The website will simply pop-up a notification and you'll have to update it on time.
Another drawback of using Woocommerce is that with so many plugins, both good and bad, there's a constant security threat to the website (if a bad plugin is installed). With other platforms, this threat is next to none.
In conclusion:
Provided that the Woocommerce development focus on the security aspect of its program and filter out the bad quality plugins, it can make other e-commerce platforms obsolete. The WordPress is an established system extending its roots in the world of Web. With some major attention on security and continuous evolution of other features, it can definitely rise as the sole e-commerce website builder.
Author Bio:
Paul Simmons is a professional eCommerce web designer at Extendons, a company offer extensions for various shopping carts such as WordPress & WooCommerce.