Do you want to blog while away from your desktop computer? It is now easier than ever to handle all your WordPress blogging needs on the go. With support for most mobile devices, you can manage your WordPress site through a mobile application. From Apple products, such as the iPhone or iPad, to Android devices and the BlackBerry, you can create new posts, moderate comments, and make changes to your website. If you have a WordPress site and are interested in handling your tasks via a mobile application then learn how to blog from mobile devices using WordPress.
The first step to start blogging on a mobile device using WordPress is to download the correct application. By visiting the WordPress.org website you can choose from the following three mobile applications:
WordPress for iOS
WordPress for Android
WordPress for BlackBerry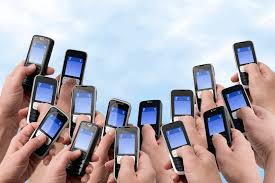 For those using a Windows phone, there are several unofficial applications that provide the same features as these other mobile applications. The only difference is that the Windows phone applications are not created and managed by the WordPress team.
WordPress for iOS
The WordPress for iOS app is designed for use on the iPhone, iPod, and iPad. With this app you can create new blog posts, manage comments, upload photos, and perform most of the same operations that you would perform from your desktop browser. The post editor has made it as easy as possible to write new blog entries, check your spelling, add pictures to your post, and add links inside of your post. For those that have a WordPress.com site, you can use this app to easily read the other WordPress blogs that you follow.
WordPress for Android
Similar to the WordPress for iOS app, the WordPress for Android application should work on most Android devices. Use your WordPress for Android app to create new posts and pages. With the editor you can write new posts, upload photos for use in your posts, create new pages for your WordPress site, and moderate your comments. An added feature is the ability to view your site stats. Use this app to find out how much traffic is coming to your site, when you are away from your home.
WordPress for BlackBerry
Like the previously mentioned mobile apps, the WordPress for BlackBerry app allows users of both WordPress.com and self-hosted WordPress sites create posts, upload photos, moderate comments, and edit pages. The interface can make formatting posts slightly more difficult than with the other apps; though, it is still a useful application when you want to manage your WordPress site on the go.
Whichever mobile device you use, being able to handle some of your everyday tasks while you are away from your standard browser can make managing a WordPress site much easier. The ability to moderate comments from your phone is one the best features provided by these apps, as creating new posts can be a slightly cumbersome task depending on the device you are using. In this modern world, more people are moving away from desktop computers and laptops in favor of mobile devices, such as smart phones and tablets. If you want to blog on the go or manage your WordPress site while commuting, then be sure to download one of these apps.