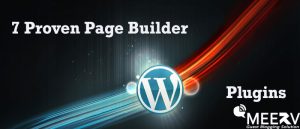 If you buy premium themes than these plugins are already added but what to do about free themes ?
Are you expert wordpress developer? If yes than kudos but no than drag and drop builder plugins let you customize your pages smoothly. These Plugins permit you to make, alter, and redo your site format without composing any code.
Many WordPress learners find it hard to change or customize page layouts with coding. These plugins dragging and dropping facility is always faster and smoother like Swiss knife. You can see the changes when you edit with it.
I'll show you the best WordPress Page Builder plugins to decrease your time and coding problems.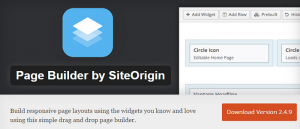 Page Builder by SiteOrigin is one of the top class Page Builder plugin. More than 900k installs and 4.8 star rating tells the accuracy. SiteOrigin works on every theme and creates mobile friendly layout. It gives you the features to testing your content with different layouts.
This plugin has full of widgets option that makes you a master designer of wordpress. Because of its live editing feature, if you make any mistake or want to change something than just go back and finish it. If you are searching for a free option for your site, you must give this plugin a try.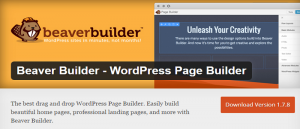 It's a premium WordPress drag and drop plugin which comes for $99 with pre-made sample templates to help you get started. You can use lite version absolutely free. Just go to plugins and downloads it. More than 70k downloads and 4.9 star rating enough to tell its consistency.
Many premium themes come with page builders, the worst thing it locks the changes on theme. But Beaver is like superman (third party plugin) that enables you to change it quicker. You can always change anything without having to start over on your early designs.
Its 100% Mobile Friendly and Responsive. Some premium plans even give you multi-site capabilities.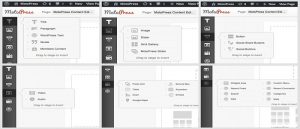 It's another premium WordPress drag and drop plugin which comes for $29 and it looks and sounds interesting. It receives 4.8 stars rating and more than 10k downloads. This plugin entirely replaces the default editor so that it doesn't come in the way of you dragging and dropping all of your components-widgets.
More premium plans offer multi site capabilities. If your chosen theme supports responsive design and mobile friendly design, your content will automatically adapt to any screen size and look perfect on all devices. It has a pleasant toolbar for selecting which parts you need to include into your post.
Live Composer (Visual Front End Site Editor):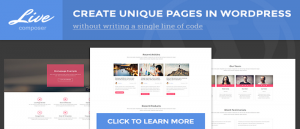 Live Composer is another free page builder plugin like siteorigin which attract more than 30k users for downloads. With 4.8 star ratings and open source facility, this plugin fulfill all your requirements about page layouts design.
It is highly flexible plugin than you can easily add more modules because of open source platform. I added lots of custom builder elements to MeetRV using the Visual Composer, like info box, Progress bar, post types grids and more. More than 30 modules and responsive feature, it became your first choice for plugins.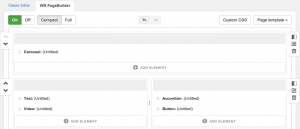 This plugin is 100% free and fully responsive in both mobile and computer. You can also easily add elements like promotion boxes, pricing tables, progress bars and content lists. I truly like the way that you can add any widgets to page in your WordPress editor.
WooRockets drag and drop builder lives another experience for building pages with most up-to-date layout and making a whole online shop like ecommerce store by visual move and customize usefulness. Its Spotlight Filter feature enables you to find page elements easily. With widget support, you can directly add widgets into a page and build up them.
MiniMax – Page Layout Builder:
MiniMax is a feature-rich and free page builder plugin. Users can easily add sliders, galleries, images, progress bar, timeline, testimonials, message box, warning box, notification box and many more features. This plugin has excellent support team and future updates for any query or bug problem. It's a great way to add minimax functionality to your WordPress site without breaking the bank.
Minimax – Layout Builder Plugin has special features for creating squeeze pages with all necessary modules. You can easily use more than 3000+ widgets to place anywhere inside your page content.
Aqua Page Builder is completely free and an ideal choice for small businesses as it helps to save your time. More than 30k downloads tells its success story. Plugin integrate like a dream with WordPress admin interface. One of the primary reasons for its popularity is the price (free). It is easy to use and works with any WordPress theme.
It takes after the same client interface utilized by the Menus and Widgets admin pages – making you feel comfortable with the UI.
Wrapping Up :
Above all the listed tools are best and easy to use. It saves your time and create stunning design in short time. For more wordpress updates and information click here.
Author Bio : 
Ravi Bhatt is a crazy freelance writer -founder of
MeetRV
where he accept and publish news and information of various category. Excited to share his thoughts on various surprising concepts of WordPress and Blogging.