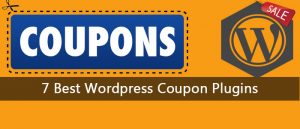 Occasion time, every person first check discount and coupons website before purchasing a product. For an eCommerce company coupons are the most lethal weapon to attract visitors and sell products in bulk. They see that a great deal can transfer a casual visitor into a lifelong customer.
So, when you search ways to convert your website's casual visitors into encouraged customers, a coupon can do the trick by tapping into some of that deal-hunting enthusiasm. Or if you are running a blog, coupons creates a good amount of traffic and it increases repeated customers flow. And don't forget to follow your actionable social media plan to catch every visitor who is search for discount.
Coupon creator is free and best among all coupon plugins. With coupon creator, you can create your own coupons or upload an image of a coupon instead and display it on your site using a shortcode. You can easily assign categories to a coupon using the loop option only to display coupons from a specific category.
Pro version allows ultimate options to change colors, style and many more. By adding filters, coupons will work in Sidebar Text Widgets.
Customer support is available and there's extensive documentation like video and images, so there's plenty of help available if you need it.
JC Coupon Lite is a free plugin available from the WordPress.org plugin directory. It's a simple Plugins created to let WordPress website owners easily create, edit and publish different styles of coupons , without any coding knowledge necessary.
JC Coupon Lite plugin provides easy to use coupon management to be included in your posts and web pages or even in side bars with the help of shortcodes. 4 colors are available for coupons. For this plugin, You must have affiliate tool where your URLs are masked and a click on your coupon will mean a hit to your affiliate link.
This plugin is available in both free and premium versions. The free one called Lite version allows all basic amenities and functionalities that can help you run and control coupon campaigns (any number of them). Latest version supports widgets and almost every wordpress theme. With this tool, you can track the number of clicks and impressions made.
Premium versions provides dedicated support, SEO optimization solution, cloaked URLs, Like/Dislike feature, powerful admin panel, detailed reporting and API integration and lots more.
Customers can easily browse, search and use the coupon codes while purchasing products.
NIC Discount Coupon Management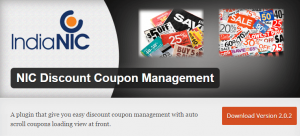 WPS coupon management gives you full usefulness to oversee discount coupons. It gives highlights like setting coupon expiry date, Auto coupon code era or custom coupon code situation and coupon picture choice. This module gives you simple discount coupon management with auto scroll coupons stacking view at front with shortcode.
This WordPress plugin is designed to convert your simple blog to a fully functional coupon website. You can randomly generate coupons or enter manual code up to 10 characters.
Many of the reviews also mention that the developers provide very fast and helpful support.
Note : This plugin hasn't been updated in over 2 years. Check before installs.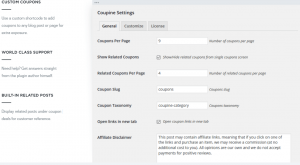 Fancythemes provides this paid plugins with lots of features. Only 30 minutes are enough to setup this plugin. It's super easy and intuitive to use. Use the WordPress Customizer for easy coupon creation with a live preview.
Coupine allows you to add disclosure box at the bottom of every coupon page. This plugin is compatible with Yoast SEO Plugin which makes your special deals searchable and easily found. Coupine offers super easy to copy & paste the coupon code. Automatically copies the code when user clicks on the button.
This plugin easily creates coupon and also improves social traffic via ultimate feature of locking coupon behind Facebook -Tweet share. User is asked to share on Facebook or Tweet it before they can unlock the coupon. So it ultimately increases visitors on your website.
More Features:
Quick and Easy setup
Custom message & call to action button
Completely customizable – color, text etc
Launguage independent
Can be made sticky at top of float as user scrolls down
Analytics (available on UsersDelight.com for free)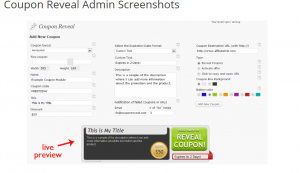 Coupon Reveal is paid and feature-rich WordPress plugin that allows you to quickly and easily add eye-catching Coupon Code widgets to your WordPress site.
You have complete control over what coupon data is added to each page and post, and you can see right from your dashboard how your coupons display. The plugin comes with tons of premium features, and the developers have also expanded the plugin with optional add-ons.
This plugin offers 3 different ways to display your coupon like Reveal Coupon, Activate Offer and Click to Copy.
Wrapping Up :
Choosing a Coupon plugin isn't an easy task. The features provided can differ greatly depending on the plugin, from very basic coupons implementation, to plugins that help structure your site including side bars also.
You can keep things simple by using something like the free Coupon creator plugin or you can add incredible amounts of functionality with a plugin like Coupon Reveal– it's perfect if you're running a coupon site. Hope this guide helped you, and you appreciate the effort done by our team by sharing ans commenting your views.
Also find my latest blog on "Where All Your Conversions Are Going".
Author Bio:
Ravi Bhatt is a crazy freelance writer -founder of MeetRV where he accept and publish news and information on various category. Excited to share his thoughts on various surprising concepts of WordPress and Blogging.