What is Rich Snippets? How it increase CTR of your website?
In 2009 Google welcomes new feature called Rich snippets for improving the display of search results. Now a day's high ranking is not enough but adding rich snippets to your page definitely increase your click through rate (CTR) of website.
The main goal being to help webmasters present their content better, and giving users as much information as possible before they made the choice to click through to a website.
Rich snippet includes information like:
Average Review, Number of Stars, Price Range
Images and Video
Lyrics and link to play a Song
Phone Numbers, Address and Photo
Product Information
Event Location, Time and Date
Author Photo, Name and Link to more articles
Breadcrumbs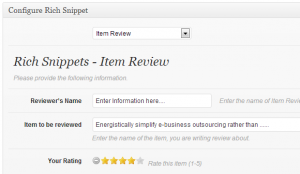 Rich snippet provides some extra information about the page making the user aware of the content type find out if that piece of content has the importance to their search query or not.
I'll show you the 7 Best WordPress Rich Snippets plugins.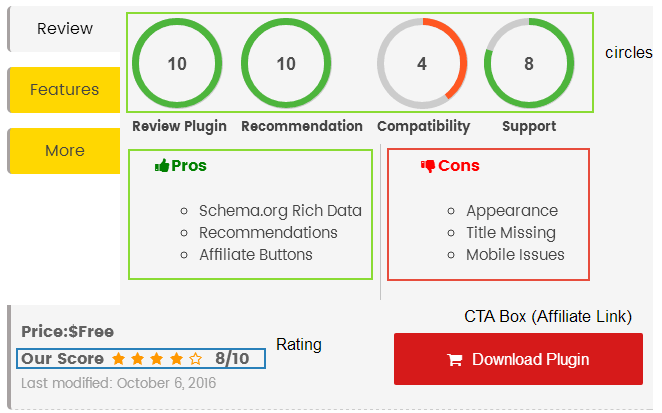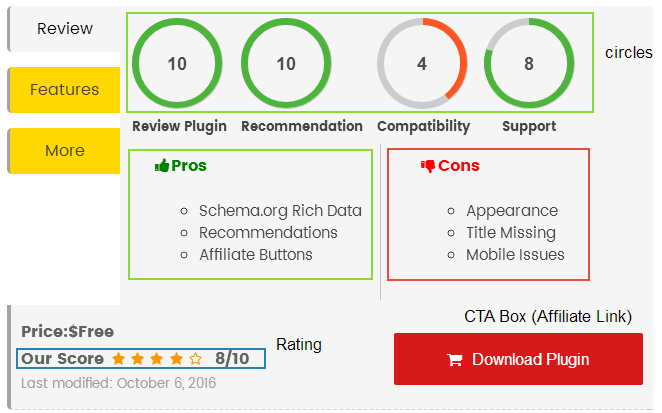 Schemaninja is the new addition to WordPress repository as one of the best schema plugins, especially for review purpose. You can not only make your reviews look better in search engines but also get more affiliate sales using the recommendation feature. After installing the plugin, you need to activate it with the free API and you're done.
You can treat the plugin as your money generator plugin from niche based or review based websites.
All in One Schema.org Rich Snippets
If you are looking for a reliable, free  and fully friendly plugin to implement rich snippets functionality in every post than this might be your first choice. More than 40k downloads and 4.4 star rating makes it like Swiss knife of plugins.
You can configure each post while editing to add more information. After installing the plugins, you can customize it as per your work.
This plugin is free but delivers premium type features and support. More than 10k active downloads tells its success story. This plugin is already made compatible with the latest version of WordPress. I personally recommended it because I already use this plugin in MeetRV and get amazing results.
Rich Reviews gives you the control to use and customize three types of reviews: per-page/per-post, category, or worldwide reviews – whether you desire users to review products, categories, or your entire website. Provides endless color options for star and numerical rating systems.
Schema App Structured Data becomes your best weapon for implement rich snippets. Its fully compatible with latest wordpress version. Plugins automatically set up schema.org markup on WordPress site on your all pages, posts, author pages and more.
This plugin connect with Scheme Editor tool which easily add content/details and then generates the code and adds it to your WordPress website automatically. You can revise your markup anytime without having to do re-work.
Its premium version provides more features like Validation, Crawler & Reporting.
It's a premium WordPress plugin which comes for $19.95 for one website and it looks and sounds quite exciting. If you go for paid plugins than you must try this one. Also a lite version available for free with some basic features.
Offers complete Schema, Structured Data and Rich Snippet markup, resolve all errors of schema markup in your theme template. Pro version ncludes contributor markup for Co-Authors Plus authors and guest authors.
Also works in combination with the WordPress Social Sharing Optimization (WPSSO) plugin to include complete Schema JSON-LD / Rich Snippet markup (images, videos, author, co-authors, publisher, place, product, etc.) for Google Search, Pinterest  and others.  WooCommerce supportis there— adds all product variations to your schema product markup!
It's a highly robust and comprehensive plugin that will help you to add snippets in your posts and pages that improves CTR. This plugins allows to create snippets very easily. If you are beginner than this plugin helps you a lot.
Plugins use JSON-LD (Java Script based) format because Google fastly catch up JSON-LD data that is dynamically injected from Javascript code and embedded widgets. This plugin provides all type of snippet features that most business website need.
Highly expert support team and regular updates make this plugin more powerful and reliable than other.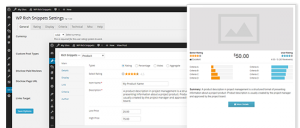 Another premium plugin in just $49 which sounds great. WP Rich Snippets is best plugin for websites with a huge variety of options to build different types of rich snippets. Try different ways to rate and review content smartly. With WP Rich Snippets, you can create own attractively-styled reviews on website using your own custom criteria, as well as managing user-submitted reviews.
You can see how rich snippets looks in google via dashboard. This plugins gives you complete control over what schema data is added to each page and post. Add snippets in posts, like star ratings, prices, addresses, hours open, votes, and percentages. Customize option for color and font change.
Enables you to create multimedia reviews with images, videos, slideshows and clickable call-to-action buttons that stand out and grab more attention.
Rich Snippets WordPress Plugin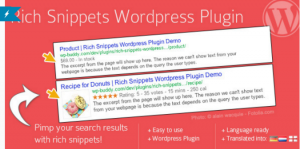 With thousands of active install, this one is the best paid plugin you can use for this specific requirements in just $12. I've personally tested all snippets with the Rich Snippet Testing Tool. This plugin ships with pre-installed shortcodes but you also have the option to manually add your own in every post and pages.
By watching youtube video created by expert developers, you can easily add snippets in just 10 minutes. Regular future updates that can guarantee you that your plugin will not be out of date. You can combine more snippets into your plugin than the ones that come with the plugin.
Wrapping Up :
We covered 7 best rich snippet plugins to add all type of snippets to your page. Still some doubts than install all this plugins one by one on your test blog, and you won't be disappointed.
If you want to go for free option than All in One Schema option and for paid plugins Rich Snippets WordPress Plugin is best among all.
We hope this post helped you find the great rich snippet WordPress plugin. You may also want to see our post on best SEO tools for content marketing.
Author Bio : Ravi Bhatt is a crazy freelance writer – founder of MeetRV  where he accept and publish news and information of various category. Excited to share his thoughts on various surprising concepts of WordPress and Blogging.