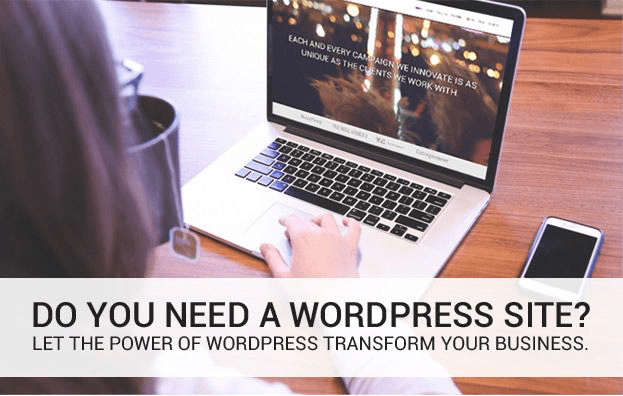 Web design has drastically changed since I built my first site in 2012. While the term Web 2.0 has been become cliché, it still describes the user-centered nature of modern web design that tightly integrates with social networking sites, blogs, video sharing sites, mobile devices, web apps and other services.
One of the cornerstones of modern web design is the ability for a client, with no technical knowledge, to update their own website from anywhere at anytime. A website built with a Content Management System (CMS) makes this easy for a client to add pages, change text, upload photos and videos and publish blogs—all on their own terms.
There are hundreds (probably thousands) of CMS systems but one has emerged to me as the clear choice—WordPress. If fact, virtually all sites I build now are custom WordPress websites.
WordPress started as a blog service in 2003. It has evolved over the years into a powerful Content Management System that is supported by thousands of web designers and developers around the globe. And many major corporations and organizations use WordPress to power their websites, such as:
Ford

The Wall-Street Journal

Sony

People Magazine

Samsung

Playstation

CNN

Network Solutions

Ben & Jerry's

MIT

Duke University

Boston College

And many more
Enough about the history of it, though—what are the benefits of using it to power your company's website?
Also read : Elegant Themes Black Friday Deal
        

Easy to Use
One of the reasons WordPress has grown so much in popularity is that the software is so easy to use for people who have no technical skill. Basically if you can use Microsoft Word and Facebook then WordPress will be intuitive for you. Tasks such as adding new pages, images and video are now easy for everyone.
        

Update Your Website From Anywhere
WordPress runs in your web browser. So from any computer with Internet access (at home, at the office, on a business trip, etc) you can log in and update your website. Even from your smartphone!
        

Take Control of Your Site
After your website is built and live, you can update it yourself. No more waiting for a web designer to schedule you in for a simple change or two.
        

Search Engines Love WordPress
The coding and structure of WordPress is great for search engines. Now don't get me wrong, most companies would still need to do Search Engine Optimization (SEO) to get strong rankings, but you will get much greater traction using WordPress than most other CMS choices.
        

Add Advanced Features With Plug-ins
With WordPress, you have access to thousands of plug-ins most free that can extend the functionality of your website. Add features such as contact forms, Twitter and Facebook streams, video, Google maps, audio, event calendars, slideshows, photo galleries and so much more.
        

WordPress is Scalable
As your business grows and web technology continues to evolve, WordPress will grow along with you. You can create thousands of pages, blog articles, images and video over time without slowing down your site.
        

Multiple Users
If your company has several people who need to update your website (such as different blog authors) you can easily create individual accounts for each user. And each user can be assigned different access levels. So you can limit access to advanced features that you want to reserve only for your IT staff, etc.
        

Easily Stay Current
With traditional software, companies have to worry about upgrading and compatibility with their other software and networks. With WordPress, updating to the current version is as easy as clicking a button—the rest happens automatically in a matter of a few seconds.
        

Built-in Blog
Since WordPress originally began as a blog service, it is a core feature built-in. You can make your site into a full-fledged blog (if you're running an online magazine for example) or make it a "corporate" site that has a blog along with traditional pages.
  

Interact With Visitors
As part of the built-in blog functionality, visitors can comment to your blog articles and you can respond, generating buzz and connecting one-on-one with your company. As a business owner, you also have some different options to moderate the comments depending on your preferences.
  

Social Networking Friendly
Automatically integrate your blog posts with social media like Twitter, facebook, Linkedin instead of having to go to each one, login, and make a post that you've just added something new to your website.
  

Ultimate in SEO Friendliness
The construction of WordPress blog code is consistent and streamlined without excessive HTML code that Google finds very inviting for indexing. Plus, with the right setup, you're able to customize every page or post you make to give you the highest possible probability of getting your pages in high search results positions.
  

Mobile Readiness
No need to produce a second Web site just for mobile users. WordPress automatically recognizes if a person is viewing the site through a Web browser or mobile device and configures the content to be viewed appropriately on either.
  

Ease of Printing
Designers are notorious for creating Web sites that are too wide to print. With a simple plugin, all your WordPress blog site content can be easily printed in easy-to-read format…without creating duplicate "printable" versions of pages. No need for sacrificing screen view design just so that people can print the pages.