Blogging is all about readership, the process of getting content right into the eyes of your readers after you have finished writing and publishing.
Not everyone uses RSS readers, or checks your website on a daily basis, or gives you their email address for your list, and posting on social media can often be overlooked as the influx of content is at such a high rate.
Over the years, a new alternative has sprung open, something that some of us have known about since the inception of smartphones, but today push notifications have been brought to desktop browsers, and they're easier than ever to set up.
With the right tools, you can start collecting push notification subscribers within a few minutes. First, let's take a look at what they are.
What are push notifications?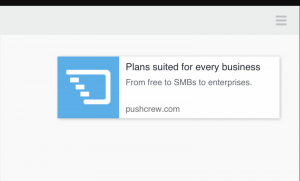 Push notifications are specific messages that can be sent to the browser for those who have enabled notifications for your website. This is the same approach that you would see smartphones using (where an app would send you a push notification of an update, or important news), but the main difference with website push notifications is that they work virtually anywhere, on desktop computers, mobile devices, and tablets included.
In marketing terms, these work similarly to that of an email campaign, however the main difference is that you can notify users instantly on their devices as they are interacting with it.
There have been numerous case studies from leading tech brands, which have shown higher than average reader engagement rates using push notifications alone. At its core, push notifications is just like any other subscriber list, and you ought to treat it with custom goals and business targets based on the content that you're providing.
So, having learned a little more about that, how do you set up push notifications on your WordPress blog?
Thankfully, there are numerous reliable services and plugins that can make all this possible within a few clicks.
#1: Push Notifications with Roost
There are a number of services out there that provide push notification services, but Roost stands out with its extensive list of features, and a fair pricing module that will be comfortable for beginner bloggers, too.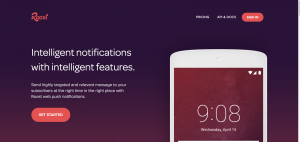 So, what makes Roost one of the better choices?
Here is a list of the most significant features,
AdBlock Protection

— Roost can automatically detect visitors that are using any type of ad blocking software, and individually segment them. This doesn't stop you from sending those users notifications, as Roost can bypass the ad blockers firewall.

Localization

— Roost includes a filter that can detect the geolocation of a new subscriber, letting you tailor custom notifications and messages based on user location.

Comprehensive Segmentation

— Being able to segment your site subscribers based on their interests and pages they signed up from can be crucial to increase engagement.

API for Developers

— Those with development experience can tap into the Roost API to make even more meaningful alterations to the way that the system is built.
The reason for mentioning a premium service right out of the bat is simple, majority of free WordPress plugins for push notifications come only as Lite versions, meaning you eventually have to buy the premium version if you want to use more features.
With that in mind, Roost is a no-brainer for those who want to create a serious environment for using push notifications as a means to increase engagement, but also sales in the long run.
They've written a simple tutorial on how to get Roost working for your WordPress blog, read it here.
#2: Web Push Notifications by OneSignal
OneSignal provides a free service for getting push notifications up and running on your blog, and has a distinctly unique list of features, too.

With a lovely web interface, and a flexible set of features, OneSignal has helped hundreds of thousands of websites and blogs to get started with their push notification segments.
You can download the WordPress plugin here, and it only takes a few minutes to set it all up. Here's a list of some of the best features,
High Performance

— OneSignal caters to some brands that have millions of subscribers, and their service can easily scale for the needs of big brands.

Real-Time Analysis

— Find out how well your push notifications are performing in real-time, likewise use your history data to understand which content works the best.

A/B Testing

— Absolutely remarkable feature, which lets you test different styles of messages to different segments of users, letting you understand which types of notifications convert the best.

Personalization

— Custom filters for creating user segments and sending specific messages to that particular group.
You can always check the Documentation page for OneSignal to better understand how the service works, and how you can make the most out of your push notification campaigns. Also Best Walkie Talkies for Kids
Closing words
While push notifications are not an entirely new concept, they're swiftly gaining popularity amongst all niches, and can be a wonderful addition to your existing marketing efforts to promote your content, and ultimately the products and services that you provide.
Both of these recommended solutions have world-class developers behind them, ensuring that you're getting a stellar result out of each push notification that you send out.
Alex Ivanovs is a freelance contract writer who specializes in web design, small business, web development, and WordPress subjects. Find more of his work on Colorlib, and connect with him on LinkedIn.