Being a website owner or a blogger, you should always know the behavior of your web visitors whenever they visit your site in realtime. By tracking the action of your web visitors on your site, you can generate better  user experience for them, which in turn, boosts your conversions as well as sales.
However, getting the insights about how web users interact with your site can be a challenging task,but with the use of available website builders or user friendly CMS platform like WordPress, you can simplify your work efficiently. WordPress comes with a ton of Heatmap tools and plugins that will help you see where your realtime users click on your site, how they interact, and how they scroll your web pages.
This is a great way to know which areas of your site have got most clicks and views. These tools can help you engage more users towards your site by improving its usability and readability. So, if you have big goals for your web business, make sure you integrate heatmaps to know where you visitors are paying more attention.
How Heatmaps Work?
A heatmap simply loads a JavaScript file in the browser of your visitors to collect their mouse movements. When a visitor clicks on your web page, this technology will highlight or mark that particular area to help you know how many clicks you get on your WordPress web page.
If the spots are brighter in color, then it means they are high-click zones. And if the color fades out, then it means they are low click zones. In short, this technology can help you know whether your potential visitors click on your targeted areas or not, such as logins, purchases or downloads.
So, with that concept in mind, we bring you a list of 10 most trending heatmap plugins that will help you get detailed insights about your WordPress site on the fly.
1. Clicky Analytics

With more than 10,000 active users, Clicky Analytics has become one of the best heatmap plugins for WordPress sites. It can help you track and collect the number of clicks within your web page. The plugin generates the heatmap on the basis of an individual web page.
It gives a complete information as well as graphical stats about your real-time web visitors, their number of visits, the number of clicks, organic searches, bounce rate and a lot more directly on your WordPress admin panel.
The plugin adds Clicky Web Analytics tracking code in each of your web pages to let you track your visitor's behaviors with ease.
2. Crazyegg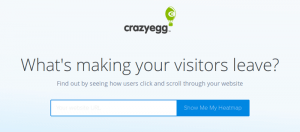 Crazyegg is an amazing WordPress tool that can help you track each and every mouse click on your web page. It allows you to see what your visitors are doing on your site in real-time.
The tool comes with a ton of exciting feature such as click data heatmap, overlay for a number of clicks on a particular area of your web page, scroll-map tracking, and you can even know where your visitors are coming from (based on referral sources).
The best thing about Crazyegg is that it offers a free WordPress plugin that you can integrate into your blog to get the most of it, without any external resources.
3. SumoMe – WordPress heatmap plugin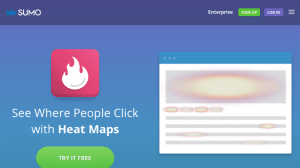 Get complete insights about your web visitor's behavior whenever they access your website using SumoMe tool. It is a great heatmap plugin that will help you know where your users are clicking on your site so that you can improve its usability and let your visitors spend more time on your site.
With its in-built functionality, you can track the number of clicks on each web page and also introduce some innovative ideas to know how your visitors are spending their time on your website. This information will let you improve the User Interface of your WordPress site with ease.
4. Clicktale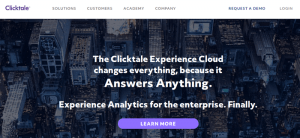 Clicktale is one of the most incredible mouse-tracking tools that offers a ton of rich features, such as data-driven heatmaps, conversion funnels, session playback, interactive stats about your visitor's behavior and a lot more.
The plugin displays the clear picture of a consumer journey on your WordPress site. You can detect what your visitors are doing on your site so that you can give more reasons to stay longer and generate more conversions for your business.
Tip: Clicktale offers a free plan that serves up to 400 page views/per month.
5. SessionCam

If you want to optimize your conversion rates, then you will need to integrate a tool that can help you track the mouse-clicks on each of your web pages. SessionCam is an ultimate WordPress plugin that comes with a whole gamut of heatmaps, tracking and reporting tools to let you see user activity on your site in real-time.
It is a responsive plugin that works across multiple devices and screen sizes. With the help of this information, you can improve the areas where you are getting least clicks and also add CTAs to drive more attention – this can boost the UI of your WordPress site with ease.
6. Ptengine

Ptengine is a free heatmap and analytics plugin that helps you track and collect information about your potential web visitors on the go. You can integrate this plugin into your WordPress site to know where people are clicking on your website.
It comes with some of the advanced features such as scrolling rates, data-driven heatmaps, multi-device monitoring, and well-detailed statistics about how your visitors spend time on your site.
7. Mouseflow

Mouseflow is another powerful heatmap and analytics tool that track the mouse movements of users such as clicks, scrolls, form filling and other keystrokes to let you know how they are browsing your site.
The tool comes both in free and paid plan. The Paid plan starts at $10per month, in which you will get unlimited pro features such as responsive support, page tracking, clear heatmaps, well-crafted details on each of your web visitor.
8. Lucky Orange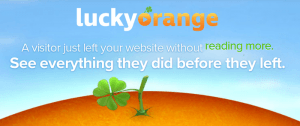 Lucky Orange is beyond a heatmap plugin. It also offers a chat functionality on your WordPress site. It lets you track your user's movement in the form of visual representation so that you can interact with them in real-time.
The plugin helps you display heatmap of clicks and scrolls on your WordPress website in a matter of few minutes. You can also identify how users are interacting with your CTAs, forms and other elements within your site.
9. Heatmap.me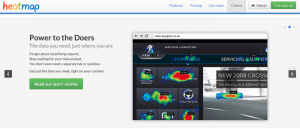 Find out how your real-time web visitors interact with your WordPress site using heatmap.me plugin. With this tool, you can see the heatmaps of clicks and scrolls on your web pages to know where your visitors are spending most of their time such as menu, sliders, and forms.
By collecting the data related to user behavior, you can improve the user experience of your sites to give more values to your real-time web visitors.
10.  ExtraWatch Pro

ExtraWatch Pro helps you monitor your web visitor's action via clicks and scrolls on your site. You can see your visitors in real-time, click on heatmap data to know where your web visitors are clicking. It also helps you track your conversion rate as well as bounce rate. You will also get the Anti-spam tool to let you keep your site safe and secure.
Conclusion
These are the top 10 heatmaps tools and plugins for WordPress that gives you complete details about your user's mouse movements like clicks and scrolls, All the plugins listed in this blog post can help the conversion rate of your site with ease.
Author Bio:
Lucy Barret is a Web Developer with over 5 years experience. She is currently employed at a HireWPGeeks and handles all major projects. She is also a passionate writer and loves to write technical articles. Follow her on Twitter.