Package #1, TOP SELLERS: WP-Bold, WP-Radiance & WP-Clear
Welcome to the "Best Sellers" package, which comes with WP-Bold, WP-Clear, and WP-Radiance.  These are some of the hottest themes offered on the internet today, and have been chosen as the leaders in their categories for their popularity and top-level demand by designers.
Any designer or web enthusiast knows how important the look and feel of a theme can be to making their site more attractive.  With these themes, you are given a choice to work with themes across each level of the equilibrium — from Clear, Bold, to Radiant, this package is great for bloggers, journals, magazines, corporates and almost everyone else.
Price: $79 (save 55%)
Buy now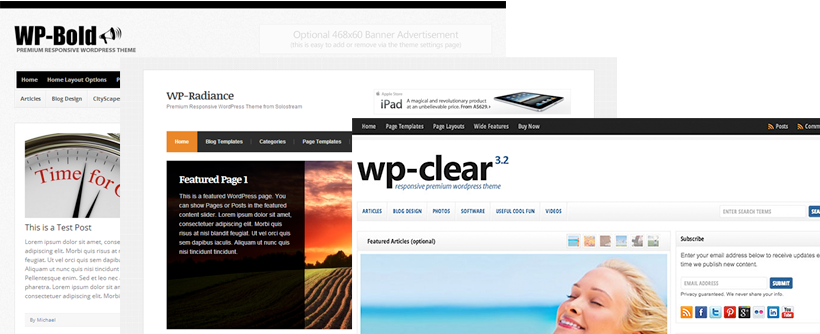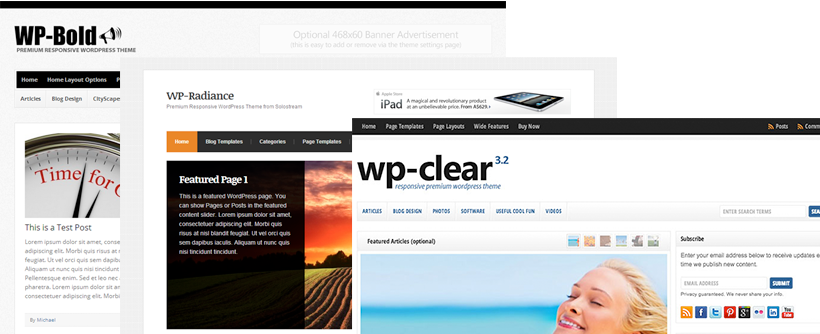 Package #2: WP-Visual, WP-Enlightened & WP-Brilliance
For the more visually inclined designers, Package 2 offers a special blend of tools and styles that will give you site the edge on the competition.  Included are WP-Visual, WP-Enlightened, and WP-Brilliance.  This package is all about opening up your site to the world by giving you an open window to create and style your site using pictures, videos, and plenty of slider and widget options.
When you want to bring your life or business to the internet in a brilliant way, then you need to get this package.  With Visual, Enlightened, and Brilliance, you will have a complete toolkit to make any site come alive.
Price: $79 (save 55%)
Buy now