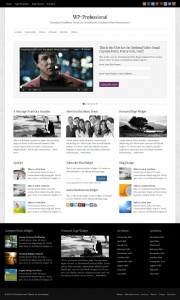 We're please to announce the release of our latest Premium WordPress theme, WP-Professional. As the name implies, this theme is geared toward Personal and Business Coaches, Consultants, Authors and anyone else who's in the business of sharing ideas.
If you take a peek at the theme demo site, the first thing you'll likely notice is Featured Content slider at the top. In this slider, you have the option to show any one – or all – of the following components:
Video Email Capture Form
Standard Email Capture Form
Featured WordPress Pages with a featured image or video.
Featured WordPress Posts with a featured image or video.
What you'll also find is a clean, modern-looking design with big, beautiful fonts, minimal graphics and plenty of white-space to show off your most inspiring ideas. Also, like our other recent themes, WP-Professional is built on a responsive design framework, which means it will look great on mobile devices as well as desktop machines.
If you're not a coach, consultant or other independent professional – but you still like the look of this theme – you'll be happy to know that it's versatile enough to serve very well as a standard business website, blog or online magazine.
All-in-all, we're really happy with the way WP-Professional turned out, and we hope you will be too.