Over the years, web marketing has totally revolutionized the way consumers and business owners buy and sell goods and services.
We're adopting marketing technologies like never before, which has made it possible for web marketers to track and optimize performance across different channels.
According to Louis Gudema from the Harvard Business Review, "Marketing is at an inflection point where the performance of channels, technologies, ads, offers—everything—are trackable like never before.
Similarly, Marketing Sherpa conducted a search marketing benchmark survey, and the study showed an increase in spending budget for web marketing channels with content marketing and landing page optimization taking the lead at 64 and 60% respectively, beating budgets for traditional media such as print and broadcast media as seen in the graph below: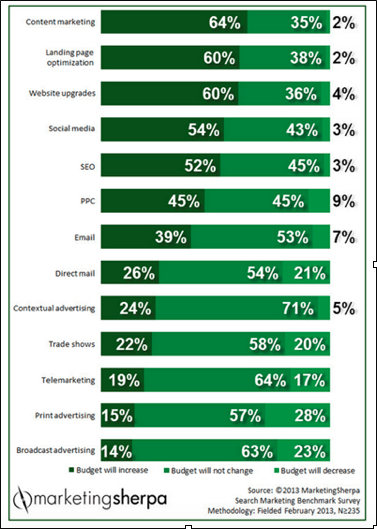 Interestingly, many businesses have realized the benefits of web marketing, and are now getting their products and services on the web.
Now, you might be wondering why this is so, and I will tell you below:
According to Interbrand in a Slideshare presentation, 89% of consumers often perform online research before purchasing an item. On average, about 77% of consumers use online product reviews to make a purchase decision.
Yes, web marketing works, but it can be frustrating as well. In this article, I'll be discussing with you, the good, the bad, and the ugly side of web marketing.
The Good
There are so many good things about web marketing, and as a web marketer, you stand to gain a lot.
First, web marketing is one of the cheapest and low-cost marketing today, and in some cases, it's free.
For instance, as a web marketer who's targeting local customers, you can quickly set up a Google+ local page and start attracting customers in Google's local business results (a.k.a. map pack). To achieve this, you're not required to make an upfront payment, nor does it require a reoccurring payment.
Similarly, advertising is always more affordable online versus offline. For example, when you're advertising with Google AdWords or Facebook, you only pay when a visitor clicks on your ads. This is not so with TV, Prints, or Radio advertising where you have to first to make a significant upfront investment.
Finally, web marketing is fast and reliable; you'll also be targeting a global audience right from the comfort of your home—in other words, it's location independent. 
The Bad
There are so many good things about web marketing. However, the bad side of it is that it's not stable, it changes all the time.
For example, the moment you think you've mastered everything about search engine optimization (SEO), Google will go and tweak their algorithm, and your organic search rankings might fall back to page 21 or even removed from the index (in extreme cases of manipulation).
The same thing applies to other web marketing channels like Facebook, just when you've built up a huge following/audience on the platform and think that everything is normal, Facebook would come up with a change in the Edgerank algorithm—this can affect your ad spend and overall conversions.
You'll agree with me that it's really frustrating.
Check out this list of Google algorithm changes to see just how frequently the search engine landscape changes.  Trust me; it's almost impossible to keep up with the trend.  As a web marketer, there's no way you can stay on top of all the trends and best practices without help.
Bear in mind that Google (i.e., search engine) and Facebook ads aren't the only factors to consider when looking at the 'bad' side of web marketing.
There's email marketing, Google AdWords, display advertising, website conversion optimization, social media marketing, tracking and website analytics.  I could go on mentioning more, but I guess you get the point.
To become an effective web marketer, you must continuously stay up-to-date with the trends and best practices, or you lose out.
No two ways about it. You also need to learn how to manage projects, because without it achieving online success in your business will be difficult.
When it comes to managing tasks, there are several tools out there—However, Ignitur is ideal for marketing agencies because of its collaboration features, while Asana is for brands or marketers who want to improve productivity at work. Both of them are also super easy to use.
Now, let's look at the ugly side of web marketing…
The Ugly
Firstly, there's a load of information readily available on the internet ranging from blogs, videos, books, articles, and podcasts published online on a daily basis.
Some of this information is sound and genuine—which can improve your business performance. Unfortunately, some of it is obsolete, misleading, and deadly when implemented.
More so, from a personal experience, I can say that it's seemingly impossible for a business owner to know exactly what or who to listen to—since there are hundreds of thousands of self-acclaimed experts in the web marketing space.
Secondly, there are many unreliable online marketing service providers preying on unguarded businesses…
For instance, my junk folder is currently filled with companies and gurus that guarantee #1 position in Google for any keyword.  This can be very tempting if you're not familiar with search engine optimization (SEO) and how it works. 
In reality, no one can guarantee #1 ranking in Google. If any company ever makes a promise to rank you at the top of Google quickly, you have to be weary of such promises. In short, if it sounds too-go-to-be-true, then it is. 
As a web marketer, you will often feel isolated. This is common because, the internet is a virtual space, you don't really get to talk to someone face-to-face, especially if your prospects and customers are scattered globally.
Everyone likes to meet people and socialize, but in this case, it's difficult to do that, in business anyway.
Conclusion
As the internet continues to evolve, new technologies in web marketing will be introduced as well.
Therefore, understanding the power of web marketing by giving a comprehensive look at its good, bad, and ugly sides (in context) will prepare you to weather the marketing storm in the nearest future.