Our partner FatCow offers 60% discount on their fantastic web hosting. It is a great opportunity to get web hosting for your website for only $3.15/month!
FatCow often offers promotions, coupons and special offers to customers during their initial term. Though the promotional price is for the first term only and renews at the regular rate, they also offer long-term promotions:
36-month term: $8.99 a month (billed $323.64 for 3 years).
24-month term: $9.99 a month (billed $239.76 for 2 years).
12-month term: $10.99 a month (billed $131.88 for 1 year).
Monthly term (subject to availability): $10.99 a month (billed monthly, applies to the first year of service only).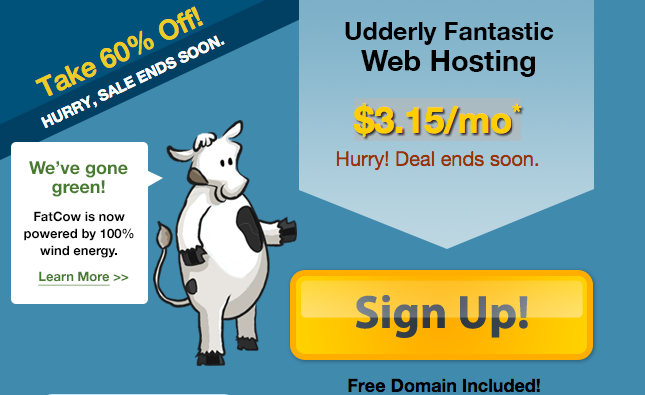 FatCow web hosting includes unlimited disc space, POP mailboxes, MySLQ databases, data transfer and hosted domains. They also offer a domain name, a website builder, a shopping cart and a script barn for free. It is also very important, that FatCow web hosting offers 24×7 phone, email and live chat support.
FatCow web hosting is fully integrated with WordPress. You can set up a WordPress website on the FatCow web hosting within a few clicks. The hosting is optimized for smooth running of WordPress websites, and you do not need any programming experience to run a WordPress website on it.
Here is what customers say about FatCow: "I am a novice and I just have to say that today, in putting my first Web pages up on your service, I had about the first computer pleasure I have encountered. Your service worked like a dream…. Your end of it worked unbelievably well. Thank you from the bottom of my heart for thinking of the non-geek user. I will be a devoted (albeit small) customer for life and would happily pay extra for this kind of service, even after the fact." Donald.
Get the chance to purchase a web hosting for your website for only $3.15/month! This is a limited time offer.