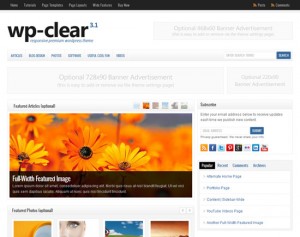 We recently completed several upgrades to WP-Clear, and version 3.1 is now available for download in the Solostream Member's Area.
If you're using WP-Clear currently, you should read over this before you upgrade.
Most of the changes we made are relatively minor, but there is one major change that may impact how you use the theme going forward. Lets get started with that one major change.
If you'd rather check out the WP-Clear demo site first, find it here.
Overhauled Image Handling – Removed Timthumb
Like several of our other themes, we eliminated the Timthumb script from WP-Clear and replaced it with native WordPress functionality. We're still using the Get the Image (GTI) plugin, but we've built it into the theme to make install and set-up easier.
You may wonder why we still use GTI plugin with the theme, and the simple reason is that many of our existing customers don't use the built-in WordPress Featured Image function. For those folks, the GTI plugin will extract an image from the post (or page) and use it as the post thumbnail or featured image.
What To Do Upon Upgrade or Initial Install
1. Run the Regenerate Thumbnails Tool – After you install and activate the theme, you'll be taken directly to the Theme Settings page. There, you'll see a link to regenerate your post thumbnails. You'll want to click that link and on the following page, click the Regenerate All Thumbnails button. It should only take a few minutes or so, depending on how many images you have on your site.
2. Begin Using the WordPress Featured Image Function – If you're not doing so already, you'll want to begin using the WordPress Featured Image function. This will ensure that all your post thumbnails and Featured Article images are a consistent size.
3. Read the Featured Content Tutorial – Because we've change how the theme handles images, if you're using either the Narrow or Wide Featured content slider, you'll want to read this tutorial (login required). Specifically, you should read section 3 or 4 (depending on which featured content slider you're using), which talk about how to add images for the featured content slider.
Featured Content Slider Changes
One of the most common complaints with WP-Clear 3.0 was the fact that the featured content sliders were not set at a fixed height. We fixed that in Clear 3.1.
Another complaint was the fact that the post titles and images were not linked in the featured content slider. We fixed that as well.
What To Do Upon Upgrade or Initial Install
1. Check Your custom.css File – If you added any code to your WP-Clear 3.0 custom.css file to fix the height, there's no need to carry those changes over to this new version. If you didn't make these sorts of changes, there's nothing else you need to do.
Added Drop-Down Select-Box Navigation for Mobile Devices
Another common complaint with Clear 3.0 was the way the navigation worked on mobile devices. Basically, it worked the same as it does on desktop/laptop devices, which wasn't very effective for smaller devices.
In the upgraded version, the navigation bars will convert to a drop-down select box on devices with a screen resolution of 768px or less. There's nothing you need to do for this.
Added Some New Page Templates and Page Layout Options
Other Minor Changes
1. Added Pinterest Social Media Link and Icon – You can now add your Pinterest username to the Theme Settings page and/or User Profile page.
2. Created a Separate Social Media Icons Widget – You can now show your social media icons in the Subscription Box Widget or in its own Social Media Icons Widget. After you upgrade, you'll want to visit the Widgets page in your WP dashboard and either add the Social Media Icons widget, or check off the checkbox in the Subscribe Box widget to show your social media icons.
3. Change the Default Color of Various Buttons – In particular, we darkened the Read More button, Search Submit button, Comment Submit button and Subscribe Box Widget Submit button. If you don;t like our choice of button color, you can easily change it on the Theme Settings page.
4. Various Other Bug Fixes and Minor Style Changes – I hope we got all the bugs worked out from version 3.0, but if we didn't, feel free to let us know.
How to Upgrade to WP-Clear 3.1
1. Download the Latest Version of the Theme – If you have an active membership or own a WP-Clear license, you can download the new version after you login to the Solostream Member's area. http://www.solostream.com/members/. After you download the theme, there are two options for updating your theme.
2. Update Only the Changed Files – If you view the changelog.php file included with the theme, you will see specifically which files were changed. If you want to go this route, you'll just need to upload the files via FTP to your theme folder. Many files have been changes and added to the theme, so I wouldn't recommend this option unless absolutely necessary.
3. Update the Entire Theme – You can do this via the WordPress dashboard. Just go to the Themes page located under the Appearance tab, and you will see the Upload link at the top. If you want to go this route, we've made it easier for you by changing the name of the theme folder to include the version number. So, for example, if the original theme folder name is "wp-clear303," the updated theme folder name will be "wp-clear31."
In this case, the updated theme will be added as a new theme rather than overwriting the existing copy of the theme. If you've made changes to the existing version of the theme (via the custom.css file), you can transfer those changes over to the new version. If you've made changes via the Theme Settings page, those settings should be retained in the new version.
4. After You Upgrade, Check Your Custom Menus – You may have to visit the Menus page in your WordPress dashboard to reset your custom menus. You can find the link under the Appearance tab.
That Should Do It. Any Questions?
Hopefully I got everything into this post. If you think I've left anything out, or if you have any question, please post them in the comments section below. For technical support question, please post your question on the Solostream Support forum.