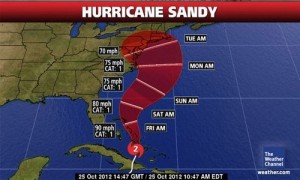 We are about to feel the brunt of a major storm for the second time in a little over a year. Last time it was Hurricane Irene. This time it is Sandy and apparently this storm is going to make last year's experience feel like a dry run.
All of the Northeast is under alert to prepare for this massive storm. The authorities are predicting major power outages throughout the region that are going to last for days.
Since our team is based throughout this area, we expect that it will be a challenge to provide our normal level of support.  Please bear with us as we weather the storm and do our best to find ways to support the Solostream community.