If you're looking for the perfect theme to power your WordPress business site, we just put the finishing touches on some great new features that make WP-Elegance (demo site) the perfect choice. Here's a screenshot showing the (new) Widgetized Home Page Template with the (new) Featured Pages slider (see description below screenshot).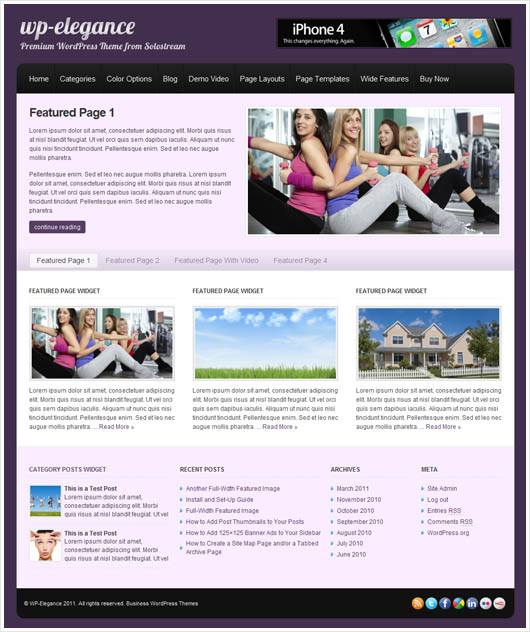 New WP-Elegance Features
Featured Pages Slider – this feature allows you to select specific WordPress pages (rather than posts) via the Theme Settings Page, and display them in a slider on your home page, a single post page or a static page.
Featured Page Widget – This is a simple widget that allows you to place a featured page in any of the widgetized areas, such as the sidebars, footer or the new widgetized home page template (see below). The widget gives you controls to add a thumbnail, page title, page content/excerpt and a "read more" link. Thumbnails can be aligned left, right or at the top of the excerpt.
Widgetized Home Page Template – Maybe you want your home page to look more like a business website instead of a blog. If so, this alternate home page template gives you 3 widgetized columns where you're free to display whatever content you like via widgets. Add the Featured Pages slider to the top, and you've got yourself a slick looking business home page.
Image Attachment Template/Photo Gallery – If you like to show photo galleries on your WordPress site, you'll love this new addition. See here for an example.