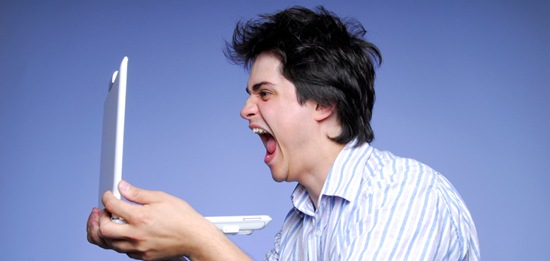 I Love You WordPress, But We Gotta Talk
WordPress is a phenomenal web-publishing platform, and I love using it. Mostly. There's one thing I seriously dislike about it though – writing posts within the WordPress dashboard. If I had a dime for every time I've walked away from my computer feeling frustrated and overwhelmed by this issue, there'd be an alarming shortage of dimes circulating the U.S.
First off, when I try to write something in the WordPress post editor, I feel thoroughly confined; like trying to breakdance inside a cardboard box. Not that I've done much breakdancing, and certainly never inside a box, but I assume it would be a rather unpleasant experience (if you happen to be a cardboard-box-breakdancer, feel free to debunk my assumption).
The other problem for me is distraction. It's usually a challenge for me to write under the best of circumstances, but when my visual field is bombarded by the dizzying array of links, buttons, checkboxes and empty fields available in the WP dashboard, it's like … fuhgeddaboudit.
Yes, I've tried some of the common tricks to overcome these problems. First, for example, I increased the height of the post box from the default 10 lines to 20 lines. You can do this in your WP dashboard under Settings >> Writing. It was a good start, but still far from optimal; just breakdancing in a slightly bigger box.
Then I tried using fullscreen mode when writing posts. This function is available only when writing in Visual mode (rather than HTML mode). It's activated via the little, blue button on the toolbar next to the spellcheck button. With fullscreen mode, your enlarge the post editor box to cover the entire area of your screen.
That was a better approach, but it went too far in the other direction. I can't stand to see text spread across the full width of my screen. The other problem with fullscreen mode is you have to switch back to normal editing mode whenever you want to save your draft, which I do a lot.
Windows Live Writer to the Rescue
In my effort to find a better way, I asked almighty Google to give me a solution, and of course she did (with a memory like that, Google has to be a woman). Of all the reviews and tutorials I found on the subject of "desktop blog editors, Windows Live Writer, again and again, was pronounced the cream of the crop. Here are some of the reasons why:
It's free.
Easy to install and set-up.
Allows you to manage multiple blogs on multiple platforms (i.e. WordPress, Blogger, Typepad, etc).
Clean, uncluttered interface.
Complete WYSIWYG editing functionality.
Excellent image editing functionality.
Several cool, little extras like word count and spell check.
That's a short list, and I also decided to do a brief screencast below to show you a bit more about it. Once you've had a chance to watch it, I'd suggest you run right over, download Windows Love Live Writer, and start using it. I'm sure it'll give you a new lease on your blogging life. It has for me.