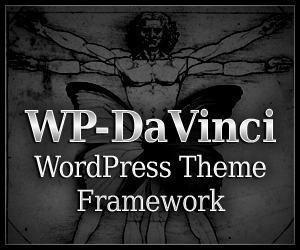 WP-DaVinci is out latest offering to the premium WordPress themes world, and although it may not appear so on the surface, it's far beyond anything we've put out in the past. WP-Davinci is our first attempt at creating a WordPress theme framework.
A theme framework is similar to a standard WordPress theme, except a framework is designed to be a flexible foundation to speed up theme development. It also makes it easier to update your theme whenever the need arises, such as when a core WordPress update impacts theme functionality. With a framework, updates can be done without messing up any custom modifications you may have made to the theme.
As I said, this is our first attempt at a theme framework, and we're clear we have some work to do before WP-DaVinci can be considered a full-fledged theme framework. In the meantime, we want to get it into the hands of folks like you, and get some feedback on it as we continue to develop it over the coming months.
As it stands right now, what you have is a simple and elegant premium WordPress theme designed with efficiency and flexibility in mind. We've built in a few more options beyond what's been offered in our previous themes, and here are some of the high points:
Multiple Page Layouts
If you take a look at the demo site, you'll see there are 7 different page layouts, including 2-column, 3-column and full-width layouts. An added twist is that you can select your page layout site-wide via the theme settings page, or you can select it on a per-post or per-page basis from a drop-down box on the Add Post/Add Page console.
Featured Content Options
We've given you 3 different featured content options; a Featured Article slider, a Featured Videos slider and a Photo Galleries slider. You can add any or all the featured content to you home page (as shown on demo site), and you can also add it to an individual page or post via the Add Post/Add Page screen.
Banner Ad Integration and Management
There are several built-in banner ad sections that can be managed via the theme settings page. You can also manage the various ads on the Add Post/Add Page screen. That way, if you want a specific advertisement (different than the one set on your theme settings page) to appear on a specific post or page, you can simply add your banner ad code on the Add Post/Add Page screen when you create the post/page.
Pimped-Out Theme Settings Page
Yes, the standard Solostream theme settings page was due for a face-lift, and we gave it one. The new theme settings page is created with a jQuery tabbed navigation script to help shorten the height of the page, and it looks a whole lot prettier too (click the thumbnail to the right to get a shot of it).
Four Built-in Styles and Style Modifications via Theme Settings Page
You can see the four different built-in style on the demo site. In addition to that, on the theme settings page, you're able to modify the look of the theme yourself. In particular, you can change the following items:
Body background (color or image)
Body font and link color
Custom logo
Navigation bars background color and link color
Post title font and link color
That's a brief rundown. Now head on over to the demo site and take a look for yourself. We hope you like it.