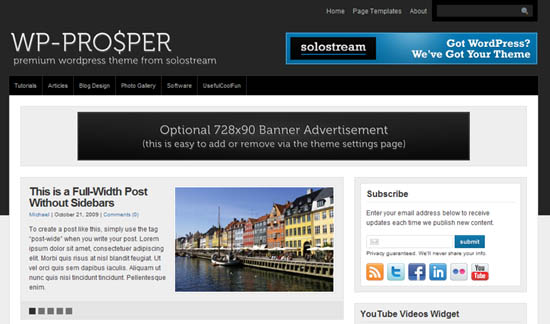 WP-Prosper is the latest and greatest offering to join our growing stable of WordPress themes. Like all of our recent themes, WP-Prosper is a flexible theme that's loaded with options and multiple home page layouts, as well as a clean, professional design to make your WordPress site really pop.
Here are just a few of the options. First, we've given you not one but two different featured content gliders; a narrow one and a wide one. We also added a nice little YouTube videos widget that you can simply drag and drop into your sidebar or footer. The the other addition is a simple Sales Page template that you can use to create a sales page or squeeze page. You can see all these options displayed on the demo site.
And of course, with the recent release of WordPress 3.0, we have integrated support for the slick, new WordPress menu system. I just posted a demo video on YouTube, so pop on over to the WP-Prosper sales page and check it out if you want to get a closer look.