We're pleased to announce the release of WP-Prosper 2.0. If you're using WP-Prosper currently, you'll want to give this a good read before you upgrade.
If you'd like, you can check out the demo site first here.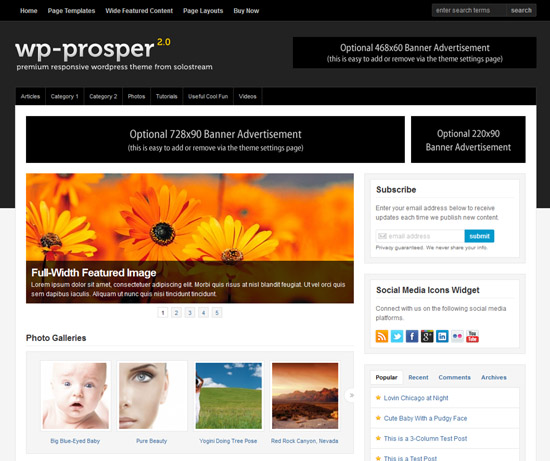 WP-Prosper 2.0 is Completely Rebuilt
If you're using WP-Prosper currently, the first thing you should understand is that version 2.0 is a total rebuild. In other words, although it looks nearly identical to the original version, the underlying code is completely different. Therefore, you should treat it as you would a brand new theme.
That means any customizations you've made to version 1.0 will not be carried over if you decide to use version 2.0. Also, any settings you've changed on the Theme Settings Page will not be carried over to version 2.0.
The reason for the total overhaul is that WP-Prosper 1.0 came out before we created the WP-DaVinci theme framework, which is the codebase that underlies all our latest themes.
WP-Prosper 2.0 Has Many New Features
If you take a peek at the list of features available on version 2.0, you'll see we've added a bunch of new stuff. Here's a short list:
Responsive Design Framework
Featured Pages Slider
Featured Photos Slider
Featured Videos Slider
Multiple Post and Page Layout Options
Featured Page Widget
YouTube Videos Widget
Category Posts Widget
Social Networking Icons Widget
Footer Widgets
With these added features, along with a cleaner, more efficient codebase, we're pretty sure you'll love this new version even more than the original.
If you have any questions, feel free to post them in the comments section below.