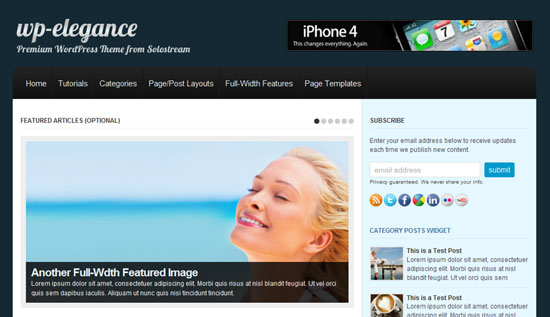 WP-Elegance is the latest addition to our collection of Premium WordPress Themes. With this latest offering, our mission was to give you the power and flexibility of our popular WP-DaVinci framework all wrapped up in a sexy design that exudes style, grace and beauty. Time will tell how well we did of course, but we're very happy with the result, and the initial feedback has been overwhelmingly positive.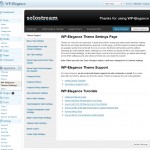 As I said, WP-Elegance is more than just a pretty face. You also get a powerful theme settings panel (click thumbnail to the right) that makes it simple to customize the look and feel with the click of your mouse. Not to mention the multiple post and page layouts that can be controlled on a post-by-post or page-by-page basis. That's not all, of course. Among the many other options, you also get:
10 built-in color options (that are easy to modify via the theme setting page).
Multiple featured content modules.
Multiple built-in banner ad spaces.
Go ahead, and check out the full list of options here. We think you'll be impressed.