In Top WordPress Plugins for 2010 (Part One), I offered five of the best WordPress plugins I think are must-haves for your site. Lets move on to part two for five more of my favorite WordPress plugins.

6. Improve Search Engine Rankings with All-in-One SEO
By default, WordPress is a very search-engine-friendly publishing platform. Likewise, so are most WordPress themes. Whenever we develop a new theme here at Solostream, SEO is a key factor in deciding how it's put together. Still, you can never have enough SEO for your site, and the All-in-One SEO plugin offers a set of features that can take your SEO to the next level.
All-in-one SEO gives you complete control over two key elements of SEO. First, it gives you the ability to determine the Title tag for all the pages on your site, including your home page, individual post pages and individual static pages.
This is a crucial feature, because the words in your Title tag are what appear as the clickable link on search engine results pages (SERPs). And according most SEO experts, the Title tag is one of the most important factors in achieving high search engine rankings.

The way most WordPress themes work, the Title tag is determined by the "Blog Title" field on your General Settings page or the post/page title used when creating a new post or page. And often, it's a combination of the two. So, for example, the default title tag for this page would look like this:
Top Ten WordPress Plugins for 2010 (Part Two) | Solostream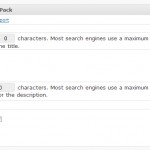 All-in-One SEO adds a module at the bottom of your Write Post and Write Page console that allows your to use a different page Title tag for your page or post if you want to. So, if I wanted to use a slightly different title to show up in SERPs, I could easily change it via the plugin. In this case, I'm not going to change it, however.
The plugin also lets you control another key component of SEO, which is the meta description tag (click thumbnail right). The meta description includes the words that will appear in SERPs just under the Title. According to SEOMoz, the meta description serves 3 important purposes:
To describe the content of the page accurately and succinctly.
To serve as a short, text "advertisement" to click on your results in the search results.
To display targeted keywords, not for ranking purposes, but to indicate the content to searchers.
Many WordPress themes don't include the meta description tag. In such a case, the description that appears in SERPs is pulled from the content of the page or post. And that's okay, but it really gives you no control over how the description shows up, so you really need to be using this plugin.
As for Solostream themes, we do not include the meta description tag in our themes. Instead, we encourage our customers to use a plugin such as this one so they can have complete control over their SEO.
7. Control the Order of Your Posts with PostMash (Filter)
As WordPress continues to mature from a mere blogging platform into a full-fledged content managment sytem (CMS), it's becoming more important to be able to control how posts appear on a site. Currently, there are several ways posts can be ordered beyond reverse-chronological, which is the standard for most blogs. With WordPress, posts can be ordered as follows:
by post author
by post date
by post title
by date post was modified
by post parent
by post ID
random order
by post custom field meta_value
by post comment_count
That's a lot of options. The problem is that you have to hack into the code of your WordPress theme to change the order. Further, even if you were able to do that, it still fails to give you complete control over the order of your posts.
What if there was a way you could see all your posts in one place, and simply drag and drop them into the order you want them to appear.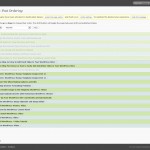 PostMash (Filter) allows you to do just that. As an example, look at the Tutorials category of this site. You'll notice the posts are not in reverse chronological order. When I built this site, I wanted the tutorials to appear in an order that a new WordPress user would likely want to see them. If I didn't know anything about WordPress, and I wanted to get started, I would probably want to see how to install it first, so I placed that post near the top of the category.
When you install and activate PostMash (Filter), a new page is created in your WordPress control panel. If you visit that page, you'll see all your posts presented in reverse chronological order. You can then drag-and-drop the posts into whatever order you want then to appear (click thumbnail to see an example). You can order all the posts on your site, or you can order a specific category of posts as I did with our Tutorials category.
The one drawback I've found with this plugin is that if you change the order of a post in one category, you also affect its order in other categories (if the post is in multiple categories). Still, this is a nice little plugin, and as of right now, there are no other simple options out there to have complete control over your post order. At least none that I know of.
8. Create Your Site Navigation Menu with Menu Manager
With most WordPress themes, your site navigation menu is based on your pages. For each page, a link is created in the navigation menu, and the link text is based on the title you choose for the page. This method of creating a site navigation menu is inferior for many reasons, some of which are these.
It doesn't allow you to include 1 or more category pages in your nav menu.
It doesn't allow you to exclude 1 or more pages from the nav menu.
It doesn't allow you to include links to an external site in your nav menu.
It doesn't make it easy for you to control the order of the links in your nav menu.
It doesn't allow you to use navigation link text that's different from the page title.
To deal with such issues, I've seen some WordPress theme developers who are building a custom navigation menu function into their themes. At first glance, this seems like a great feature to include in a WordPress theme, and I've considered it for Solostream themes.
Ultimately, though, I decided against it, because what happens when you decide to change your theme? Once you move to a different theme, your navigation structure is toast. It's great for the theme developer, because you're less likely to switch to a competitor's theme, but it limits you as the user.
That's what I love about Menu Manager. It gives you complete control over your navigation menu without locking you into using a specific theme. With Menu Manager, you can include or exclude any page or category you like. You can also create links to external pages if you like.
As far as the link text, you can make it whatever you want. So, if you have a page with the title "Learn a Little More About Me," you can just use "About" as the navigation link. Further, there's a drag-and-drop function that allows you to order you navigation links any way you choose.
9. Turn Your Site into a Social Network with Mingle

I've already talked about the importance of reader engagement and developing a community around your site, and this relatively new plugin can certainly help further that cause. Mingle WordPress is a plugin I recently discovered, and I have to say I'm quite impressed, both with it's functionality and its ease of implementation.
Once you have Mingle WordPress installed and activated, your site has the potential to become its own social network. Imagine a scaled-down version of Facebook, only right here on your own site. Here some of the current features provided by the plugin:
Members can set up there own user profile page complete with a bio and photo.
Members can "friend" other members and communicate with them via direct comment to them on the site.
Member directory page.
Email Notifications for members.
For a full list of the features and an example of how a Mingle-powered site runs, visit WordPress Mingle, and set up your own user profile. As I said, this is a relatively new plugin, and I've heard talk that there will be additional features rolling out in the near future.
10. Increase Pageviews & Build a Relationship with your Readers via YARPP Related Posts
One reason blogs are such a powerful business tool is they can help you develop and nurture a relationship with your readers and/or customers. That relationship is created mainly through your content. So, naturally, the more of your content someone consumes – assuming it's good, relavant content – the quicker and easier it is to develop and maintain that relationship.
When someone visits your site for the first time, it's likely because they followed a link from a search engine or another site. They're likely here looking for a specific post or article. And once they've finished reading that post, they'll likely be on their way to the next site. That is, unless you give them a reason to stick around and read more of your content.
That's where Yet Another Related Posts Plugin (YARPP) comes in. YARPP will automatically scout out other posts on your site that are related to the post being read. It will then present those related posts at the end of the post being read. You can see YARPP in action at the bottom of this post. And with any luck, you'll see something in that list that you may want to read beyond this post.
Five More WordPress Plugins Worth Mentioning
1. WP-DBManager – This is a great little plugin to help you back-up your WordPress database consistently and automatically. I already wrote about it in this post.
2. WP-PageNavi – A cool little plugin that adds page numbers to the bottom of your blog pages instead of the typical "next page, previous page" links.
3. W3 Total Cache – This plugin can help make your site run a bit faster through automatic page caching, database caching and minification.
4. Broken Link Checker – Don't you hate to click on a link only to discover it doesn't go anywhere? So do your readers. This plugin will scout out any and all broken links on your site, tell you where they are and help you fix them.
5. Google Analyticator – If you use Google Analytics (and you should), this plugin adds the necessary JavaScript code to enable Google's Analytics on your site.
What Are Some of Your Top WordPress Plugins for 2010?
So, that's it for me. Those are my current top ten favorite plugins (plus 5) for 2010. I'm curious though. What are some of your favorites? Just drop me a line in the comments below, and tell me what you're using on your own site.