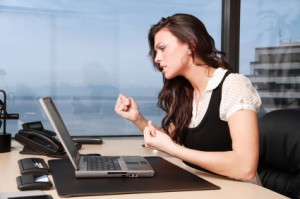 It doesn't happen often, but it does happen. There's a SNAFU with your web host, and they tell you that your website is no more. It's gone. Kaput. Like Elvis, it has left the building. And worse, they don't have a recent back-up of the data. Or worse still … they don't have ANY back-up copies of the data.
Think it can't happen? It can. And it does. But it doesn't have to be that big of a problem if you're prepared for the worst.
You Need to Keep Your Own Back-Up Copies of Your Website
Most web hosts do offers some sort of back-up plan, however, they also state that you should keep YOUR OWN back-ups of your site.
Bluehost: "Bluehost does not offer redundant or mirrored backups. Bluehost will run courtesy backups at our discretion. Any backups that Bluehost runs are in addition to our Terms of Service and are not guaranteed. Customers are encouraged to run periodic backups through the provided cPanel. Bluehost recommends that you store such backups off site on your local system."
Hostgator: "You are responsible for your backups and web content. We create our own weekly backups on the shared servers, and we can restore from those. However, this is NOT a procedure you should rely on to keep your content safe."
DreamHost: "At DreamHost, we know everybody's data is important, no matter what plan they're on. That's why all our packages include full backup 'snapshots' of your data at various regular intervals (two hourly, two daily, and two weekly) … Of course, you should ALWAYS keep your OWN backup copies of everything of any importance to you no matter what. But we'll do our best to make sure you never need them!"
Whether your host offers an automatic back-up service or not, the bottom line is you need to create consitent back-ups of your own data. It's just good business practice; just like you make consistent back-ups of everything on your home and business computers. My computer is backed up every night (a lesson I learned the hard way).
Back-Up Your WordPress Database
Most of the important data in a WordPress site is stored in a database on your web host's server. This includes data such as your WordPress site settings, posts, pages and comments. It also includes any settings for WordPress themes and plugins that you have installed.
What's not stored in the database includes your WordPress core files, theme files, plugin files and image uploads. You'll need to back-up these files separately.
There are several plugins that handle the task of create a database back-up. I've examined most of them and tested the ones that look most promising. Basically, we want a plugin that does the following:
1. It Should Create an Automatic Database Back-Up According to a Set Schedule – This is not a task that should be reliant on our memery to accomplish. It needs to be automatic.
2. It Should Send the Back-Up File to an Email Address of Your Choosing – Most back-up plugins will store the back-up file on your web host's server, but that's not quite good enough. We also want a copy stored somewhere off the server in case the entire server goes down or loses data.
Which plugin handles both of these tasks?
WP-DBManager created by Lester Chan
Here's how to set up the plugin to create automatic database backups of your WordPress site.
Step 1: Install and Activate the Plugin – you can do this through your WordPress control panel. Simply click Plugins >> Add New in your WP control panel, and do a search for WP-DBManger. Once you find it, click the install link, and activate the plugin. If your server is not set up to install plugins this way, you'll need to download the file at the link provided above, unzip it, then upload to your wp-content/plugins/ folders within your WordPress installation.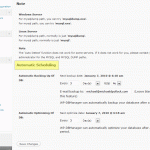 Step 2: Ensure Proper Settings for the Plugin – Once the plugin is installed, you should see a new module at the bottom left of your WP control panel named "Database." Click on the link that says "DB Options," and scroll down to the section on "Automatic Scheduling" (click thumbnail to the right).
How often you have your database backed up is a matter of personal preference. If you are adding new content to your site every day, then you should do a daily back-up. Otherwise, set the back-up schedule according to your own publishing schedule. Be sure to add your email address to the email field so the plugin will email the backup to you. If you like, you can also have the plugin optimize the database according to a set schedule as well. Is it necesary? Likely not, but since you're here, you'd might as well set it up. It certainly won't hurt anything.
Here's another Tip: Create a free Gmail account, and have the back-up files sent to that email address. That way, the back-ups won't take up space on your home computer. Also, if something happens to your home computer, you will still have the back-up stored in the Gmail account. Gmail is a great storage facility for your data.
Back-Up Your WordPress Files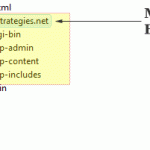 Now that you have your automatic WordPress database back-up scheduled, we turn our attention to backing up your WordPress files. In this case, we want to create consitent and automatic back-ups of all the files in the following folders (click thumbnail for example):
main WordPress folder
wp-admin folder
wp-content folder
wp-includes folder
The simplest way to do this is with and FTP program, ideally one that you can set up to handle the task automatically. The FTP program I use is named SmartFTP. Unfortunately, SmartFTP is not free. It goes for $36.95, but I was more than happy to pay for it considering the features it offers, mainly the automatic transfer feature. The other issue with SmartFTP is it's not MAC compatible, but I'm sure you MAC users out there have a comparable (if not better) alternative.
How often you backup your WordPress files is, again, a matter of personal preference. I do it once a week. And keep this in mind. The most important files to back-up are the files in the wp-content folder. This folder includes your theme files, plugin files and image uploads. If you lose those, it's not so easy to restore them. On the other hand, the core WordPress files, wp-admin folder and wp-includes folder can easily be restored by simply downloading the latest version of WordPress.
Some Questions for Your
Do you back-up your WordPress site(s)? If so, how often?
Have you ever lost your WordPress site?
Does your web host provide consistent, automatic and easily accessible back-ups? If so, what web host are you using?